Planning applications for the first three sites are expected to be submitted later this year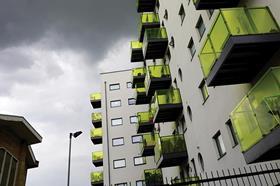 Transport for London has announced a new partnership with property developer Apartments for London to build affordable homes across a number of sites in the capital.
The agreement will see Apartments for London create homes over car parks and other available sites on TfL land.
Graeme Craig, director of commercial development at TfL, said: "Apartments for London offers modern, precision-manufactured homes, and working with such innovative partners we can develop sites that would not otherwise have come forward and deliver homes at a considerably quicker pace than is offered through traditional construction."
The developer, which specialises in residential projects that use modular construction, was set up in spring 2017 and its board includes former Labour business secretary John Hutton, now a Labour peer, and former Tory MP Steven Norris.
Planning applications for the first three sites the new partnership will bring forward, which have the potential to deliver around 450 affordable homes, are expected to be submitted later this year.
Earlier this month TfL announced it was preparing to start its search for a private partner to help deliver more than 3,000 build to rent homes on land it owns.
The transport authority said it would officially launch the search for a partner on the project, which will include at least 40% affordable homes, in the coming weeks.
The affordable housing component of the build to rent schemes are set to contribute toward TfL's commitment to deliver 50% affordable housing across its portfolio of sites.