Skanska and Balfour Beatty set to give evidence to House of Commons investigation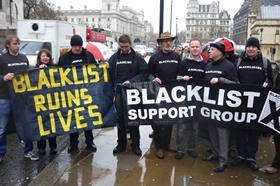 Skanska and Balfour Beatty are set to be the next major contractors to be asked to give evidence on blacklisting to a House of Commons committee.
Sources close to the Scottish Affairs committee, which began an inquiry into blacklisting in the construction industry last June, said it is likely to call Skanska followed by Balfour Beatty in the coming weeks.
Both firms have been linked to the activities of the now-defunct blacklisting organisation The Consulting Association (TCA) by witnesses appearing before the committee.
Last month Balfour Beatty admitted to the Olympic Delivery Authority that it had used TCA to carry out checks on Olympic workers.
Carillion is also likely to give evidence at a later date.
Last month, Cullum McAlpine, Sir Robert McAlpine director, appeared before the committee.
On Tuesday, the committee heard from witness Jack Winder, the former joint managing director of a firm called Caprim which, like TCA, was created in the nineties after the demise of the blacklisting organisation the Economic League.
Winder, who had worked for the Economic League, claimed Sir Robert McAlpine had provided £10,000 to Caprim in the first few months of its existence.
"It was partly a goodwill gesture and partly to say 'keep clear of [former TCA chief officer] Ian Kerr and all his work'," Winder told the committee.
Winder said Caprim had never operated in construction and denied it held individuals' records.
Instead, he said it had monitored the disruptive activities of "far-left" groups.
Winder said Caprim sold intelligence to multinational firms in various industries including Rio Tinto, JP Morgan and GlaxoSmithKline.
Responding to the claim it had provided Caprim with £10,000, a Sir Robert McAlpine spokesperson said: "This is a new assertion which Sir Robert McAlpine Ltd is currently investigating. However, we feel that it would be inappropriate to comment in detail while the Scottish Affairs committee continues its hearing."
Balfour Beatty and Skanska declined to comment.