Three died after the derailment in August 2020
Investigators have called for stronger oversight of civil engineering construction by Network Rail after finding failings by Carillion caused the fatal Stonehaven rail crash.
Three people died and six were injured after a passenger train service between Aberdeen and Glasgow derailed near Carmont, Aberdeenshire, and hit a bridge parapet in August 2020.
Rail Accident Investigation Branch investigators said the derailment occurred when the train hit debris that had been washed out of a drainage trench by heavy rain.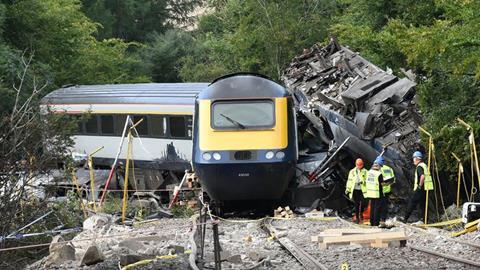 The drain system was installed by Carillion during 2011 and 2012 as part of a wider scheme to fix a known problem with the stability of earthworks in the area.
Inspectors said the system had been unable to accommodate the heavy water flows as it had not been built to the designer's original specification.
The RAIB's report specifically highlighted the construction of a low earth bank running along a slope towards the track, which it said had "significantly altered the flow of water such that extreme rainfall would cause a concentrated flow into the steeply sloping section of trench".
No evidence was found suggesting the construction of the low earth bank was notified to Network Rail or the designer, Arup.
The report explained that Network Rail's audit regime did not include measures likely to find design modifications made without proper change control, with the company relying on a contractual assurance process which required Carillion to refer changes to the designer to be approved.
Among 20 recommendations made by the RAIB was a suggestion of "better management" of civil engineering construction activities by Network Rail and its contractors.
Simon French, chief inspector of rail accidents at RAIB, said the investigation highlighted the risk of uncontrolled changes to infrastructure design during construction.
He said: "It is so sad that a project that was designed for the protection of the travelling public became unsuitable for its intended use and posed a hazard to trains".
While he accepted such changes were often necessary "for practical reasons", he said they needed to be "made with care" and reviewed by the original designer. "I hope this example will resonate throughout the UK's construction industry," he added.
The Stonehaven crash killed conductor Donald Dinnie, train driver Brett McCullough and passenger Christopher Stuchbury.
Police Scotland, in conjunction with the British Transport Police and the Office of Rail and Road, the UK's rail safety regulator, are undertaking their own investigation.
Carillion collapsed into administration more than four years ago in January 2018.