Gold Medal winner objects to questions about Qatar and Japan's Olympic stadium
Zaha Hadid abruptly ended an interview with Radio 4's Today programme this morning after a series of questions about controversial projects.
Hadid, who was today announced as the winner of the RIBA's Royal Gold Medal, was asked about deaths at her World Cup stadium in Qatar and then about the loss of the Tokyo stadium.
She repeatedly cut in to correct interviewer Sarah Montague who suggested that 1,200 migrant workers had died at the Qatar site – an entirely false allegation, over which Hadid has sued in the past.
The interview – which can be heard below – then moved on to what Hadid described as the "scandal" surrounding the Tokyo stadium. But after Montague cut off one of her answers, Hadid, who was sitting in a radio car, declared: "Let's stop this conversation. I don't want to carry on. Let's stop this conversation right now. Thank you very much."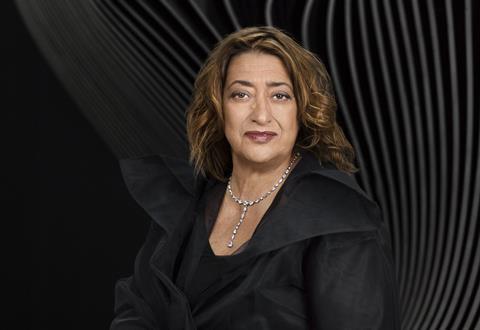 Montague began by asking her about sexism in the industry. Hadid, who is the first woman to win the Gold Medal in her own right, said things had got "much better" during her time in practice.
Montague then asked her about her "scary" reputation and failure to be embraced by the British establishment, something Peter Cook referred to in the Gold Medal jury's citation.
Hadid said: "I was always considered on the margin. I wasn't part of the so-called establishment precisely because I can't go to men's clubs or go golfing or whatever they all do together. I don't think it matters really. I have always been on the edge. I don't mind being on the edge. Of course, I don't want to be seen as someone who can't do a certain thing.
"Once someone told me, 'They don't give you work here because you are scary'. I had an answer I would never dare say on radio. It might be so. It's not for me to say."
Montague then launched into her question about deaths in Qatar. Hadid cut in: "There haven't been any problems. I have to put you right. There hasn't been a single problem on our stadium in Qatar."
Montague put the 1,200 deaths claim to her and Hadid again cut in: "Absolutely not true. We sued someone for writing that and it had to be withdrawn from the press. It's absolutely inaccurate."
Under repeated questioning, Hadid said: "There have been no deaths of construction workers. You should check your information before you say anything… I can't talk for the planet. I cannot talk about the entire world. I am talking about our site."
When Montague turned to Hadid's "tough summer" and the Tokyo stadium saga, Hadid quickly corrected her, saying: "I didn't pull out. I pulled out because we had no contractor to go with. Again this is a very serious story and it should be reported accurately. Someone should be interested in it because it's a scandal."
She was asked to explain but when Montague hurried her reply, she ended the interview.
UPDATE: The BBC later issued an apology for not making clear that the 1,200 construction deaths figure related to the whole of Qatar. It said: "We are sorry we didn't make this clear in this morning's interview with Dame Zaha Hadid. We are happy to accept there is no evidence of deaths at the main stadium site."
</p>
Source
This story first appeared on Building Design