Unions hail victory after two years of campaigning to get information commissioner to contact individuals on infamous blacklist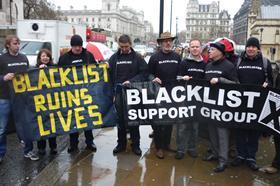 Construction unions have hailed a major step forward in their campaign to find redress for victims of industry blacklisting with the announcement that the Information Commissioner's Office will write to more than 1,000 victims of the practice.
David Smith, deputy commissioner at the ICO, said in a blog on the ICO website that the body will write to 1,200 people whose names were on lists held by blacklisting body The Consulting Association (TCA).
Smith said the ICO, which raided the TCA's offices in 2009, had not written to individuals sooner because much of the information was partial or inaccurate.
Blacklisting campaigners have been calling for the ICO to proactively contact victims in order that all those affected can seek redress.
The ICO has liaised with the Department for Work and Pensions to find up to date addresses for names on the database, but it said there remained 500 names for which it was unable to find a strong identification, and who will not receive letters.
Construction union the GMB says a total of 3,214 people were named on the list, with only 467 currently knowing that they were on it.
The ICO said it had also set up a web page for potential victims of blacklisting giving them information about how to proceed in order to confirm if they were affected.
Maria Ludkin, GMB national officer for legal and corporate affairs, said "The GMB is pleased that, after almost two years of pressure, ICO has bowed to the inevitable and is writing to 1,200 people whose national insurance number states that they are on the blacklist."
The GMB called on those contacted by the ICO to join the unions high court legal action taken against firms involved in the practice.
This week two other unions, Ucatt and Unite, both announced they were also taking legal action on behalf of their members, taking the total number of actions to four.
Smith said: "Today marks another step forward in our work to help those included on the construction industry blacklist, as we send out the first of around 1,200 further letters to individuals who we believe may have been on the list.
"We're asking those people to reply to us and provide some form of identification if they would like us to check whether the information included on the list is about them. If it is, then they will receive a copy of their information."