Despite acute problems on its borders and ongoing political instability, not to mention a permanently-pending EU membership application, Turkey has new build figures the UK can only dream of. But is it open to UK firms getting in on the act?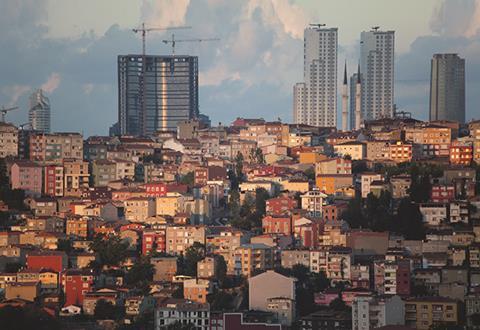 Turkey is in a state of flux. Domestic political instability, added to chaos on its eastern borders, has caused its economy to slow. Yet, despite these threats and worries, it is still the location of £228bn ($350bn) of active, new build construction projects - three times that of the UK. If you stand on Istanbul's Galata Bridge, close to the historic meeting point between Europe and Asia, cranes bristle across the horizon in every direction you look.
Turkey has been "one to watch" for a long time now. The country's young population and dynamic economy earned it a place among the so-called "MINT" economies in 2011 - the next group of fast-growing nations and emerging economic giants - and it recovered quicker than its European neighbours from the worldwide recession. However, since 2012 slow growth in the EU and difficulties in the Middle East, North Africa and Russia have had a knock-on effect, causing GDP growth in Turkey to drop from 4.2% in 2013 to 2.9% for 2014, according to data from the World Bank.
Domestic instability is also causing concern as the country's deficit has increased to £156bn (698,783 Turkish Lira), following the June election, which saw president Erdogan's AKP lose its majority and subsequently fail to form a coalition, sparking new elections on 1 November, when the AKP regained its parliamentary majority. President Erdogan, speaking following the election results, said the "national will favoured stability".
While there is evidence of an unexpected second-quarter surge in private investment, the World Bank has put this down to the private sector carrying out previously postponed spending, anticipating the end to the political uncertainties. Its forecasts predict only a slight uplift in growth to 3.2% for 2015 and a marginal increase on this to 3.5% for 2016 and 2017. So is there space for UK construction businesses to win work, and given the country's borders with Syria, what is the risk involved? Building went to Turkey to find out.
Where's the work?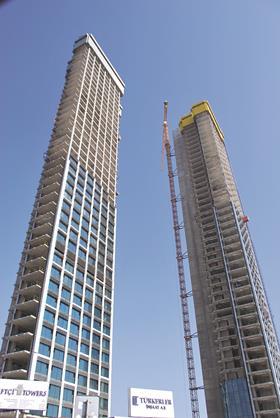 "Things have got worse rather than better over the last few years," says Nigel Peters, director at UK business promoter British Expertise, referring to a political and economic climate that some feel has seen Turkey, an overwhelmingly Muslim nation, move away from its liberal and dedicatedly secular constitution. Aecom's chief executive for continental Europe, David Whitehouse, says external and internal political issues have had "an effect on investment, both domestic and foreign".
This is echoed by his colleague Neslihan Aybar, Aecom's country director for Turkey, who says activity has not recovered since the drop-off that preceded the election in June.
She adds that "no new big government tenders have come to market, while the private sector is adopting a wait-and-see approach, spending time on designs and not moving into construction".
Despite this, there is still a huge amount of work taking place, including £98bn of active transport projects, and Serdar Karahasanoğlu, country leader for Arup Turkey, says that "growth in the construction sector is still outstripping other sectors in Turkey". He believes the situation is "temporary" and hopes "better conditions politically and economically" are on the horizon.
Other transport projects taking place include the ambitious Eurasia Tunnel - a 5.4km double-decker road tunnel crossing the seabed of the Bosphorus - and the new airport in Istanbul (see box right), which sits within the boundaries of a new city 30km from central Istanbul that has been masterplanned by HOK.
These "mega projects" and other government-led initiatives, are mainly funded via a form of private financing called BOT (build, operate, transfer) whereby a private sector vehicle receives a concession, usually from a government, to finance, design, build and operate a project for a period before transferring ownership back to the government. Other forms of private-public partnerships (PPP) are common, an example of which is the countrywide healthcare scheme to deliver the government's target of 175,000 hospital beds by 2023, the centenary of the Republic of Turkey.
The Global Construction Perspectives 2030 report predicts that by 2023 the total investment in healthcare PPP projects alone will reach £130bn.
The government has also announced significant plans to expand its power sector as it aims to reduce reliance on imports. Over 80 new coal plants are in the pipeline and Turkey's first nuclear project in the country started on site in April 2015. The £13bn project, to be delivered by Rosatom, a Russian state-owned company, is located in Mersin on the Mediterranean coast and is due to complete in 2020.
There are plans for a second facility in Sinop on the Black Sea to be built by a French-Japanese consortium and a third is in the offing.
The beginning of this year saw Turkey put in place its first National Renewable Energy action plan in line with the EU's renewable energy directive with which it must conform as part of its ongoing European Union membership application. Forecasts reported in Global Construction 2030 predict that by 2024 Turkey's electricity generation mix will see hydropower accounting for 22% and non-hydro renewable 12%.
Meanwhile, private investment outside of PPP projects is predominantly centred around the major cities of Istanbul, Ankara and Izmir, with some investment on the Mediterranean coast. The focus of this investment is mainly on high-end hotels, luxury offices and housing projects such as Ritim Istanbul, a mixed-use project comprised of six towers, the Pearl of Istanbul, which encompasses a marina with man-made islands, and the 375m Highlife Tower in Izmir, which will be Europe's tallest once completed. The retail sector is also seeing substantial investment according to Maurice Rosario, director at Scott Brownrigg, as Istanbul seeks to compete with London and New York as a shopping destination.
Hakan Agca, architect and urban designer at HOK, says clients in Turkey are highly aspirational, which "provides opportunities to push boundaries," adding that the "scale of projects can be huge". "Turkish clients have understood the desirability and sustainability of building mixed-use developments, rather than the creation of the stand-alone office block," he says.
There is also, Arup's Karahasanoğlu says, "huge potential" in the tourism sector, which is growing year by year. This sector has seen Japanese firm Okura announce plans to open its first 130-room spa resort in the Anatolian region of Cappadocia in 2017, with more hotels in Ankara and Istanbul to follow.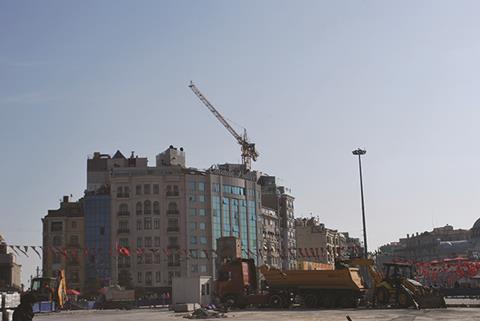 International relations
Turkey began formal talks for its accession to the European Union in 2005, but little progress has been made in the intervening decade and last year the president of the European Commission, Jean-Claude Juncker, said there would be a five-year pause before any more countries would be allowed to join.
But while not a member, Turkey does already have a free trade deal with the EU, as well as having a huge pipeline of work, meaning legally there are no particular barriers to entering the Turkish construction market.
However, there are plenty of experienced Turkish contractors and the market for construction delivery is highly competitive, especially now as the external markets for those contractors, such as the former USSR countries, are being squeezed by depressed oil prices. Aecom's Aybar says this is "forcing the Turkish contractors to look back to their homeland for work."
Yet, British Expertise's Peters sees "good opportunities" for consultants, with Aecom's Whitehouse saying there is a lack of a strong project management culture in the country, making these skills sought after.
Even so, firms wanting to enter the market will need to be able to bring something different to the table to make themselves competitive. This is primarily because local firms can produce
work more cost effectively due to smaller overheads than foreign firms, even if not always to the same level.So HOK's Agca says international firms have to "start offering something the local firms can't".
"I think advances in sustainability and technologies such as BIM can provide that edge," he adds.
Specialisms such as facades and acoustics are also sought after and it is these types of disciplines, Arup's Karahasanoğlu says, that his firm is considering expanding on and diversifying to keep its offering competitive.
Having an international name also helps, as Salini Impregilo's project executive Gianni Botteon explains. "Clients in Turkey always want the best they can find around the world to work on their projects".
There are, though, other challenges for foreign firms working in certain areas of the country. For example, Salini Impregilo is working on the €260m (£186m) new hydroelectric dam in the province of Siirt in southeastern Turkey, close to the Syrian and Iraq borders. The project - because of its location - has come with "a lot of safety and security problems and the workers are having to be guarded by 100 soldiers," Botteon says.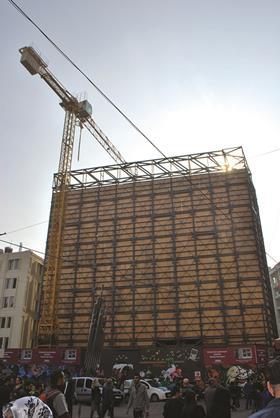 Cultural challenge
Existing relationships are very important in Turkey, which can make it a difficult market to enter. However, Whitehouse says once you are in and have gained the trust of locals, the market is "good and sustainable". Essential, he says, is showing the client "that they are going to get good value for paying more than the local market [rate]".
Some firms, including Aecom and Arup, maintain permanent offices with predominantly Turkish staff, which Whitehouse says makes Aecom's offer more attractive as they are able to provide careers and training to Turkish employees. The country has one of the youngest populations in the world, many of whom are also "very ambitious", says Whitehouse.
Other companies partner with local firms, particularly if working on state-funded projects. For HOK's Agca, local architecture firms are important partners as they can navigate the building regulations and planning laws which are "pretty stringent and can be very different from European building methods - things like floor area ratios and plot coverage ratios for example can create challenges". But partnering itself can be a challenge, with Botteon saying that in Turkey people have a "different way of viewing things and managing works".
Foreign firms are likely to find it easier to work with private investors, as government contracts can sometimes be affected by the changing political landscape in Turkey. Whitehouse says "the government as a client has had a chequered record over the years, with many instances of contract disputes, and there is a perception that the courts are not always as independent as they should be". He adds that clients in Turkey can "delay and delay decisions," but once decisions are made things can move very, very fast.
Overall, though, the market is "booming," Rosario says, and the amount of work taking place means that local companies cannot service it all.
So there is plenty of work in Turkey for UK consultants, but they have to be able to provide services that the highly competitive market cannot offer and be willing to invest in establishing themselves in the market. Do that, and this thriving country at the stepping point between Europe and Asia is theirs for the taking.
Istanbul's new airport: Flying in the talent
Since Turkey deregulated its aviation industry in the early 2000s it has rapidly expanded, with passenger numbers trebling to 81 million and an aviation fleet that has grown to 431. Of these, nearly 300 belong to national flag carrier Turkish Airlines.
The number of airports in the country has also doubled from 26 in 2002 to 52, and the government plans to build more.
The largest and latest project in the sector is the €10.2bn (£7.3bn) new Istanbul airport, which once operational will replace the country's main international airport, Istanbul Atatürk International.
The project began in May this year after a consortium of Turkish contractors - Cengiz, Mapa, Limak, Kolin and Kalyon - won the €22.15bn (£15.9bn) build-operate-transfer tender. The contractors each have a 20% stake in the project under the company IGA, established to deliver the scheme.
As is typical on these major schemes, the building nous of the Turkish contractors has been bolstered by foreign firms, including international design practice Scott Brownrigg, which is the lead designer on the terminal building for phase one of the scheme. Here the firm is taking on and developing the concept designs from architects Grimshaw and Nordic, including passenger processing, interior design and wayfinding.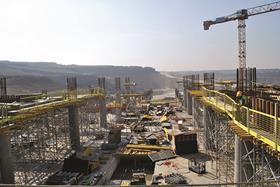 Hoare Lea is working on the lighting and acoustics while Arup has also worked on the masterplan, following on from its role as technical adviser to the consortium during the concession bid stage in 2013. Aecom, in joint venture with Delta Turk, is now working on the detailed designs for phase one of the airside section of the airport, which includes the three runways, taxiways, the "apron" where planes are parked, associated drainage systems, airfield ground lighting and navigational aids.
Building is a complicated process at the best of times and this megaproject with its large consortium structure requires "seamless decision making," says Yusuf Akçayoğlu, chief executive of IGA, adding that this project is "essential" for Turkey to maintain its "competitive advantage" in the world's aviation market.
"If this infrastructure is not provided the current expansion is unsustainable and the Turkish aviation industry may face the risk of its current share going to its competitors," he says.
The project currently has 9,000 people on its 7,560ha site and 1,700 dump trucks as the earthworks are in full flow. Keeping this part of the development on track is one of the biggest challenges at the moment for Akçayoğlu, as backfilling the rolling terrain on the edge of the Black Sea takes time. He estimates that they only have "210 working days during the course of a year as rain and snow directly affect these works".
To keep to the tight schedule that will see phase one completed in 2018, the design and construction of the airport are being done concurrently. This, Akçayoğlu admits, "carries risks," but he says the experience and expertise of those working on the project will keep it on track.
Maurice Rosario, director at Scott Brownrigg, is leading the scheme and previously worked on Istanbul Atatürk airport, which opened in 2000. He says the terminal "will be the largest single terminal in the world" with an initial capacity of 90 million passengers per annum.
Phase one will see the construction of the terminal, three runways and substantial aviation-related development, with further phases envisaged to create additional runways, terminals and satellite piers, increasing the airport's capacity to 180 million passengers per year and providing flights to over 350 destinations. The design input is scheduled to complete in September 2016.
Akçayoğlu says the input of foreign firms was required because although the Turkish are "very good in constructing, they do not as yet have the same capabilities in design and engineering," indicating the wider opportunity for UK expertise. "We are expanding, but not at the same level as yet," he says.
The site, not yet at peak activity, is currently swallowing 3,000 cubic metres of concrete a day just to keep going, as the terminal and parts of the first pier rise from the ground. By the time the site reaches peak activity 60 cranes will be in action and will move around 10,000 cubic metres of concrete a day.