The city is enjoying an unprecedented boom – so much so that it has been dubbed 'Manc-hattan'. But what's behind this rush of activity, and how are contractors and developers living up to the opportunities and challenges the city and wider North-west region offer?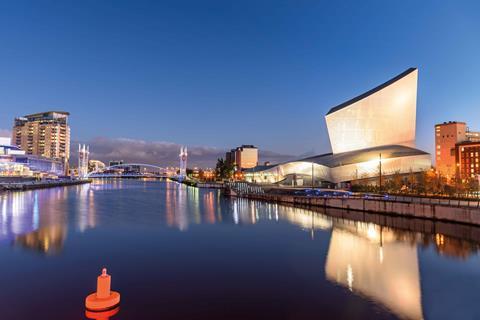 Manchester is booming – the wider city centre population has ballooned from 10,000 in 2008 to 70,000 in 2018. While Birmingham is dubbed the UK's second city, Manchester's wider metropolitan region is now of a similar size. Office for National Statistics figures indicate that construction output in the North-west was running at 10 times the national average in 2018, making the region one of the busiest in Europe.
The city gained a new recordholder for tallest building last year with the completion of Deansgate Square South Tower (pitcured below) – the fifth highest in the UK – and the Mancunian accolade is set to be passed on again in a few years' time with the Trinity Tower X, which will stand at 213m. You can barely move for the cranes and the roadworks and the construction site hoardings.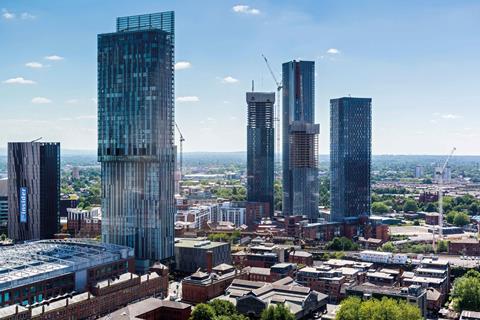 Significant regeneration projects are sprouting up across the city, creating new neighbourhoods, from U+I's £1.4bn Mayfield regeneration programme to an £800m mixed-use development in the north of the city [see Manc-hattan here we come: What's being built in Manchester?]. And Manchester council has set itself the ambitious target of delivering 32,000 homes by 2025, as well as doing its best to attract the investment to incubate future economic growth.
The boom is not confined to Manchester; this activity is triggering major regeneration schemes in surrounding areas such as Blackburn, Bolton and Stockport. Ramboll's director Martin Bissell says: "We're seeing these places begin to become hotbeds of activity now that city centre land is becoming scarcer." And larger contractors and developers who would once have eschewed the city are moving in now that healthier returns are possible.
Prime minister Boris Johnson has signalled that his government remains committed to boosting economic growth in the north of England with its Northern Powerhouse proposal, promising greater local control over rail and increasing powers for elected mayors.
But will the North-west's well-documented connectivity challenges continue to hold it back? What impact is Manchester mayor Andy Burnham having with his devolved city mayoral powers? And what challenges does construction face when delivering on major projects in the city? To find out, Building spoke to construction experts with years of experience in delivering projects in the region.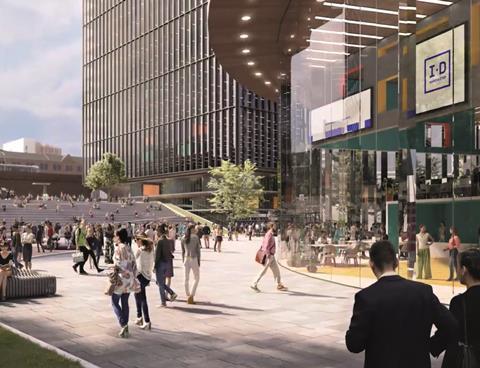 Manc-hattan here we come: What's being built in Manchester?
The Salford Quays development, which houses the BBC and ITV at the 2011 MediaCityUK, is just one example of schemes that have transformed the surrounding area in the past decade – more people are working at the Quays than during its time as a major sea port. Here are some projects under way that show why the city's nickname is "Manc-hattan".
NOMA
An £800m mixed-used development in the north of the city spanning 20 acres and creating 4 million ft2 of offices. When completed it will be larger than MediaCityUK. Its centrepiece, the Co-operative Group's HQ One Angel Square, built by Bam, opened in 2013. Within NOMA is Angel Gardens – a 34-storey, 466-apartment building which opened this year, designed by Ryder Architecture with structural engineering by BuroHappold Engineering.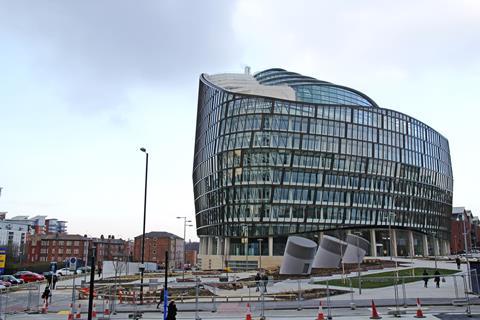 Mayfield regeneration project
This £1.4bn programme, a joint venture between U+I, Transport for Greater Manchester, Manchester city Council and developer LCR, includes the transformation of a run-down 30-acre site into a mixed-use neighbourhood, including 1,500 homes, office space, a hotel and retail and leisure space. Within the development is the introduction of Mayfield Park, designed by Studio Egret West, a 6.5-acre city centre park around the River Medlock. Planning for the first phase has been submitted and contractors are yet to be appointed.
Deansgate Square
This development is home to Deansgate Square South Tower, designed by SimpsonHaugh and Partners, the tallest completed building in the city centre, and the tallest outside London, at 201m. The South Tower will be accompanied by three other mixed-use towers and is scheduled to open in 2020. Nearby, the 52-storey Elizabeth Tower on Crown Street is also under construction, and is being developed by Renaker.
Trinity Islands
This £1.3bn resi development near the Deansgate Square development by Allied London and sold to Renaker will consist of five towers and 1,390 homes. Trinity Tower X, at 213m, is set to become the tallest building in the UK outside of London when it completes in 2022.
St Michael's Tower
A controversial 40-storey skyscraper, designed by Hodder and backed by former Manchester United stars Gary Neville and Ryan Giggs. The 1.5-acre city site will include a mixed-use tower containing flats, nearly 150,000ft2 of offices, a 200-bedroom hotel, retail and restaurants.
Circle Square
Bruntwood's development includes a 116m student accommodation block on the former site of BBC Manchester near Manchester Metropolitan University, also for Manchester university students. The Circle Square neighbourhood is due to be completed in 2023, and it will also house a hotel and office space.
Manchester Town Hall
Currently vacant, the 1877 grade I-listed landmark is undergoing a six-year, £328m restoration programme. In January, Lendlease pipped Laing O'Rourke to become management contractor. Work is under way and due to complete in 2024. The Australian contractor will also enhance Albert Square under the £190m contract.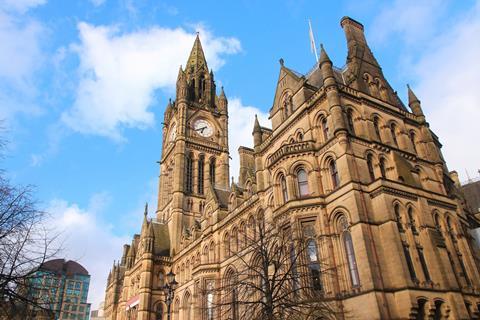 ID Manchester
The University of Manchester's £2bn innovation district adjacent to Piccadilly railway station will include 3.5 million ft2 of mixed-use space.
Manchester airport T2 expansion
A £1bn investment to increase the size of the terminal by 150% is set to complete next year, delivered by Laing O'Rourke and Buro Happold.
Manchester Arena
This proposed £300m, 20,000 capacity arena, located on the Etihad campus would rival the current Manchester Arena as the city's leading music venue. Sir Robert McAlpine, Bam and Laing O'Rourke are all bidding to build the stadium.
The next transition into a truly international city would be significantly aided by having a city centre where families can live and work too

Chris Shaw, Urban Splash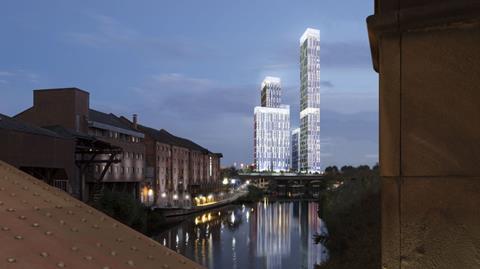 Residential boom
'Far more people are coming back to live'
"There are so many cranes, new tall buildings – it's been a colossal amount of work in the residential sector over the last few years," says Kieran McManamon, a director at Faithful+Gould.
Mixed-use developments and new neighbourhoods costing billions are transforming swathes of Manchester city centre into areas filled with living space for city dwellers. McManamon says: "A few decades ago only a handful of people lived centrally. But now far more people are coming back to live there. It's bustling in the evenings and on weekends."
The construction boom in Manchester is undoubtedly led by the residential sector. The five-tower Trinity Islands complex bought by Renaker (see overleaf) will consist of nearly 1,400 homes; the Bennetts Associates-designed Mayfield regeneration scheme around 1,500. The surge in residential buildings reaching for the sky shows no sign of abating. Sir Robert McAlpine's Paul Quinn explains that he currently has a run of projects down the same road.
"At one point we had 14 tower cranes up in one street. PRS [the private rented sector] is staying around."
Deloitte's Manchester crane survey, published earlier this year, backs up those claims. It found that in 2018, 14,480 residential units were under construction; more than double the 2016 figure (6,963 units). Deloitte expects that the level of delivery on residential projects over the next three years will exceed the previous 10 combined.
Manchester is succeeding in attracting more people to live in the city. In fact, whereas 20 years ago only a few thousand people lived in the city core, that figure has now risen to about 35,000 and is growing rapidly. In recent years, the city area has experienced the greatest percentage population growth outside London and now has a population of about 545,000. This is about half the population of Birmingham city centre, but the wider metropolitan region holds about 2.8 million people, similar to the West Midlands.
Part of the city's success stems from the ability to retain students – there are simply more opportunities to work, says McManamon. "There is a mentality that you don't have to travel down south now to have a career – that's increased the number of graduates staying."
Ramboll director Mark Pniewski believes that the residential boom is driven by these graduates. He says: "Manchester has one of the highest retention rates in the UK for this – and they want to live in the city centre."
Gleeds director Brian McArdle points to the 200-acre MediaCityUK – the complex on Salford Quays to the west of Manchester – as an example of how these developments can generate an entire industry. The BBC and ITV are now situated there. "It's been transformational for the wider region," says McArdle.
But the rise in residential building demands infrastructure services to support the newly-created communities. "We don't want people to move out of the city when they have children, just because they can't find good schools," says McArdle. "There needs to be a solid plan. Chris Shaw from developer Urban Splash agrees: "We have transitioned from an industrial city to a place where people now live and work. The next transition into a truly international city would be significantly aided by having a city centre where families can live and work too."
Recently my staff have had to sit on a train for two hours to come in from Liverpool and that's certainly not ideal. We want the development of Northern Powerhouse Rail to proceed

Mark Goldspink, Purcell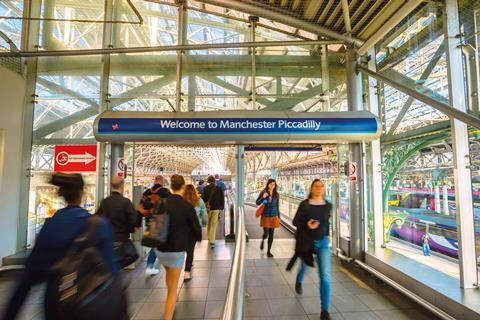 Infrastructure
'Infrastructure is the major, major challenge'
The biggest challenge for Manchester and the north-west region is infrastructure. Connectivity across the Pennines has always been problematic, and the stalling, £56bn behemoth HS2 project to connect the North-west with London is now under review. The second phase of the project is not due to reach Manchester Piccadilly station until 2033 – but with HS2 chair Allan Cook suggesting it could run up to seven years behind schedule and a review set to advise the government on whether or not to carry on with the project at all, that date 14 years from now seems unlikely.
Arguably more integral to the economic growth of Manchester and the North-west is an improved network of transport links within the region, dubbed Northern Powerhouse Rail (or HS3). Further to this, links between trams and trains form the basis of a five-year development plan to better integrate transport across Greater Manchester. The success of these programmes will dictate the trajectory of residential and other development in the city.
The current state of transport infrastructure is clearly hampering growth in the region. Gretta Starks, a project manager at Mace, says the need for investment is urgent. "It's hard to overstate the impact improved links between our great northern cities would have. It's ridiculous that such short distances are still so time-consuming and unreliable to commute between."
Mark Goldspink is chief executive at Purcell, the conservation architect working on Manchester Town Hall's restoration project. He says: "Recently my staff have had to sit on a train for two hours to come in from Liverpool and that's certainly not ideal. We want the development of Northern Powerhouse Rail to proceed – it's essential for the development of the area."
Chris Hartley, a partner at RLB, feels confidence among developers will very much depend on infrastructure investment. He says: "Infrastructure is the major, major challenge for us in the North. Housing will continue to be a big performer [for Manchester] and that is interconnected with infrastructure, which is essentially enabling works to allow for more housing. We won't get housing and industrial developments going ahead if we don't have infrastructure going ahead."
Ian Bayman, director at consultant McBains, is hopeful Manchester's booming construction sector can influence the decision to upgrade the current network: "The aged rail infrastructure in the North-west is in desperate need of renewal and the increasing population of major urban areas will hopefully act as a catalyst to validate such investment."
When a city attracts visitors from outside the city through creating open spaces and increasing the leisure offer, you create a 'sticky' city centre

Ged McNicholl, Faithful+Gould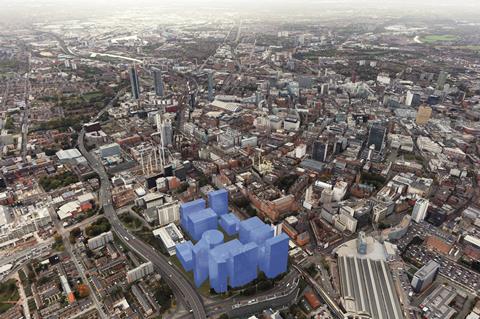 What are the next boom sectors?
'Office rents are growing'
The volume of residential development in Manchester has been impressive, but it may have peaked. Rob Mills, a director at Aecom, reckons a slowdown has already begun. "The market is still healthy, but we are definitely over the top. We've had three fantastic years of growth and now the volume of work starting has slowed."
Ramboll director Martin Bissell says some unnamed projects in Manchester which were originally set to be residential have been forced to change tack. He explains: "There aren't the people to pay the rental prices to sustain those high-value buildings. Office rents are growing though, and that space is generally cheaper to build."
So if resi is on the wane, it looks like commercial offices is one of the next boom sectors. "The commercial office market is under the radar but still very active in the city itself," says Gleeds director Brian McArdle. "Allied London is bringing on the latest in the Spinningfields part of the city and each development includes office space. That's also created a secondary market via the commercial space that people are exiting." The Allied London work McArdle refers to is within the St John's Quarter – a £1bn development on the former site of Granada Studios, vacated when MediaCityUK's completed. It is set to house 600,000ft2 of office space.
Aecom director Mills notes that as the resi private rented sector market becomes saturated, he has seen more inquiries into hotels and serviced apartments. "People are looking to do something a bit different now," he says. And Ged McNicholl, a regional director at Faithful+Gould, points to the burgeoning activity in the hotel sector down the M62. "Weekend occupation is very high in Liverpool. When a city attracts visitors from outside the city through creating open spaces and increasing the leisure offer, you create a 'sticky' city centre."
If hotels and commercial space doesn't whet the appetite of the Manchester construction sector, it can always turn to three universities with ambitious expansion plans. The University of Manchester – named one of the most innovative universities in Europe and third in the UK behind Oxford and Cambridge in a ranking by the New York Times this year – is continuing in this vein with a new £1.5bn innovation district, called ID Manchester (pictured right). Ramboll's Bissell says that the university's new hub is an exemplar of how a city can keep its graduates in the long term: "A lot of great research goes into this city – this new district is creating a natural step to move from university into industry and retaining the knowledge in the city."
Manchester Metropolitan University is also getting in on the action — it is set to deliver a £30m School of Digital Arts, designed with industrial collaboration in mind, in 2021. Work is also ongoing at the University of Salford to create a new research facility for its computing, science and engineering school.
The public sector is playing a big role in getting a lot of the developments off the ground

Mike Lane, Willmott Dixon
Devolution
'These people know the area and have the influence'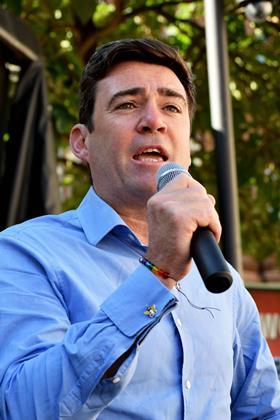 Much of Manchester's development growth can be attributed to the liberating effect of devolution. The Cities and Local Government Devolution Act of 2016, along with the Greater Manchester Combined Authority, established in 2011, have given the city greater powers to govern itself. Consisting of 10 councillors and Greater Manchester's city mayor Andy Burnham, the first to be elected into the role in 2017, the combined authority's devolved powers range from housing and planning to transport.
Gary Ireland, client director at Atkins, thinks that both the city and the wider north-west region have gained a lot from this move. "There's a lot more autonomy in the decision-making process. They aren't as bound by the private sector [in terms of pushing ahead with developments]." Gleeds director Brian McArdle thinks Manchester has benefited from being one of the first city regions to gain this control.
"I do think Manchester has been ahead of the curve. It's been beneficial for Manchester, for Liverpool too. It helps that you have an individual speaking for each city and they work very closely together so you've got a unified voice across the region."
The combined authority's powers are enabling it to stimulate regeneration of larger parts of the city. Ged McNicholl, regional director at Faithful+Gould, says: "We're seeing a move away from the delivery of 'plots' in favour of the focused and considered regeneration of the city region as a whole."
"The public sector is playing a big role in getting a lot of the developments off the ground, through either putting together land deals or providing an element of funding," says Mike Lane, operations director at Willmott Dixon. "They're the driving force behind a lot of the work. It gives me a bit of faith in politics." Giles Scott, director of real estate and development at Arcadis, believes the local knowledge is a positive factor. "With the localism and greater devolved powers, there's a greater understanding of what's needed – these people know the area and have the influence."
Manchester's ambition to grow its city and economy is reflected in its use of the local supply chain and extracting value for the local communities out of what is developed. Mark Goldspink, Purcell's chief executive, sees the city's mood is skewed towards supporting localism. He says: "There is a definite support and positivity about social value in Manchester – in particular in using local resources." Says Atkins' Ireland: "There's a desire to use a local supply chain here – and that's a good thing for the local economy."
Aecom's Mills, notes a key difference between working on projects in Manchester and in London is in the supply chain it looks to use. "Client and developers tend to use a local supply chain. Manchester seems to be a lot more about relationships and developers tend to use smaller consultants. As a big company you have to prove you can offer something different."
If firms wish to work on projects in Manchester, they must also be environmentally and sustainably driven. The UK government may have set its net zero carbon emissions targets for 2050, but Manchester wishes to achieve that goal 12 years sooner. Neill McClements, a partner at Grimshaw, says: "[Andy] Burnham has been really ambitious with his policies – there has been a genuine desire for sustainability."
"Users are also demanding far more of their buildings – we need to take that into account," says Adrian Londsale, associate director at Bennetts Associates.
Mei Ren, a director at BuroHappold, believes climate emergency and zero carbon will shape up the design, planning and construction practice in Manchester and the North-west. "More and more investors are valuing the sustainability credentials of properties taking account of potential carbon tax in the future."
There are particular shortages on the professional services consultancy side, which then transfers into the construction side. People will still go where the money is

Chris Hartley, RLB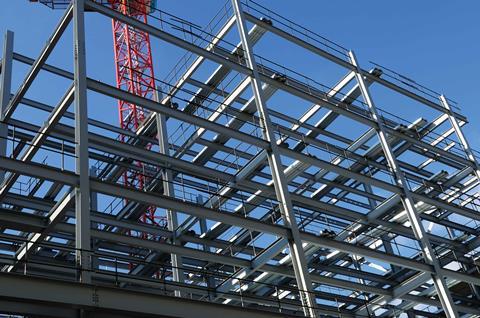 Competing for resources
'It's really hard to get the resource out there'
Projects in Manchester face many of the same obstacles as the rest of the country: tight margins, skills shortages, short deadlines and supply of materials. They're also not exempt from political uncertainty slowing down activity. But the regional landscape of the contractor market and supply chain, along with the skillsets that the sector can call upon ensures that those working on the city's developments face particular challenges.
The north-south divide still exists on some aspects of work. Chris Hartley, a partner at RLB, says that Manchester still needs to compete with the capital on both wages and opportunities. "There are particular shortages on the professional services consultancy side, which then transfers into the construction side. People will still go where the money is." The skills shortage is also evident on site – and partly a consequence of Manchester's success in getting so much work off the ground. Paul Quinn, senior contracts manager at Sir Robert McAlpine, says that the work is stretching his subcontractors' resources. "There's that much going on in Manchester that it's really hard to get the resource out there on the field to actually build it for us. A big challenge is in the fit-out and finishing trade in particular – getting brickwork contractors is an issue for us."
The region is still feeling the effects of Carillion's collapse nearly two years ago. Gleeds' McArdle feels that the combination of larger contractor struggles and a shrinking supply chain means that prices are rising. "It's due to the amount of work on and the availability of labour and the supply chain." Ramboll's Pniewski says the market's fragmented nature means that firms must "play with parts of the supply chain that we wouldn't touch in London", explaining that instead of using one large contractor, packages in Manchester and the North-west may be pieced together with lots of different suppliers. This has led to a dependency on becoming more self-sufficient among larger contractors. Aecom's Mills says: "We do a lot of multidisciplinary stuff now – it happens a lot more in the North than it does in London."
Simple economics dictates that with a shrinking supply of subcontractors, demand for their services will increase and so will the cost of using them. Chris Shaw, delivery director at Urban Splash, has found price inflation to be particularly challenging in the city. "We are finding suppliers are not willing to hold their prices for very long which is difficult when pricing larger schemes." This lack of capacity forces some projects to compromise on quality, says Arcadis' director Giles Scott. "The small number of contractors you have faith in to deliver on that project means you'll get people 'having a go' at it and you inevitably end up with some failures."
For this special report, Building spoke to a host of construction professionals to gather their personal perspectives on working in Manchester and the wider North-west area – below are listed some of the key people who helped with our coverage and who are shaping the built environment in this booming region
Greg Ball senior development manager, U+I
Ian Bayman director, McBains
Martin Bissell director, Ramboll
Mark Goldspink chief executive, Purcell
Chris Hartley partner, RLB
Gary Ireland client director, Atkins
Mike Lane operations director for the North West, Willmott Dixon
David Leversha structural director, Sweco
Adrian Lonsdale associate director, Bennetts Associates
Brian McArdle director, Gleeds
Neill McClements partner, Grimshaw
Kieran McManamon director, Faithful+Gould
Ged McNicholl regional director, Faithful+Gould
Rob Mills director, Aecom
Mark Pniewski divisional director, head of UK building specialists, Ramboll
Paul Quinn senior contracts manager, Sir Robert McAlpine
Mei Ren director, BuroHappold
Giles Scott director of real estate and development, Arcadis
Chris Shaw delivery director, Urban Splash
Gretta Starks project manager, Mace