Consultant had employed 350 people across two offices in country
Aecom has said it is pulling out of Russia with immediate effect and expects to take a $50m (£38m) hit as a result.
The consultant, which last year had a global revenue of $13.3bn (£10bn), has two offices in the country – in the capital Moscow and St Petersburg – from where it employs around 350 people.
In a statement, Aecom chief executive Troy Rudd said: "We support the people of Ukraine who are facing tremendous suffering as a result of Russia's unlawful invasion.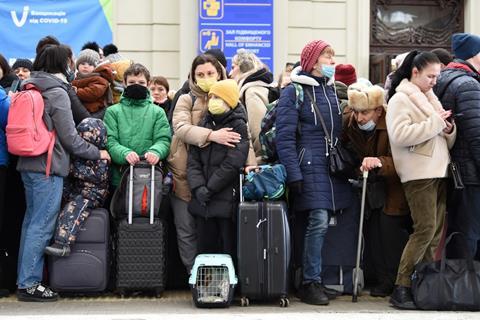 "Russia's actions are inconsistent with Aecom's values and have compromised the business environment for Aecom, our clients and our joint activities in Russia. For Aecom, the impact of these actions is particularly unfortunate for our colleagues from our Russia business, and we have taken steps to provide them support during this transition. As always, our priority continues to be ensuring the safety, security and well-being of our teams throughout the region."
In a separate post, the firm's chief executive of Europe, Colin Wood, added: "We employ so many talented people in the country, who have delivered some fantastic projects.
"We thank them for their hard work and dedication. As a global, diverse organisation we take great pride in the wide range of nationalities we employ across the world, and we join the global community in condemning Russia's actions in Ukraine and expressing our concern for Ukraine and its citizens."
Aecom said the impact of the decision will be a "one-time pre-tax expense of $40m to $50m in the fiscal second quarter". It added that the cash impact of the move will be around $10m (£7.6m).
Turner & Townsend, now majority owned by US firm CBRE, also has an office in Moscow. Building has contacted T&T for comment on whether it too is pulling out of the country.
Aecom is the latest in a string of firms to pull out of working in the country in the wake of Russia's invasion of Ukraine, now in its twelfth day.
Over the weekend Visa, Mastercard and American Express announced they will suspend all operations in Russia in protest at its invasion of Ukraine.
Late on Friday, Foster & Partners become the latest UK architect to confirm it has stopped work on all projects in Russia.
Others to do so include David Chipperfield Architects, John McAslan & Partners and LDA Design.
Last week Building revealed a firm part-owned by a Russian oligarch with links to his country's president, Vladimir Putin, has a major role on building the HS2 project.
Austrian civil engineer Strabag, part of the SCS joint venture which is undertaking more than £2bn worth of tunnelling contracts on the rail megaproject, is 28% owned by Rasperia Trading Ltd, a business itself owned by Russian industrialist Oleg Deripaska.