Contractor accuses housing provider Circle of unfairly awarding work to Kier on back of 'abnormally low' bid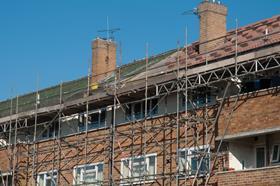 Affordable housing giant Circle is facing a High Court claim from contractor Apollo that it unfairly awarded £500m worth of repair and maintenance contracts to rival firm Kier on the basis of an "abnormally low" fee bid.
The legal row comes against the backdrop of growing industry fears about underbidding and tightening margins.
The court case concerns a "six-lot" framework worth at least £1.2bn issued by Circle last summer, covering planned and responsive works in three regions over 10 years.
Four contractors were selected by Circle in May and although Apollo - which is now part of the Keepmoat Group - won the "lot three" contract worth up to £220m, it lost out on lots one, four and five with Kier winning the latter two.
The claim seeks to overturn Circle's decision to awards lots four and five to Kier, contracts which are worth up to £490m in total and cover planned repairs in the eastern and central and West Midlands regions.
It alleges Circle's tender process breached regulations and the obligations of European law including in terms of Circle's assessment of whether or not Kier's tenders on the two lots were "abnormally low".
According to its own defence, Circle had included mechanisms in the tender process to guard against low fee bidding including the ability to reject tender bids seen as abnormally low.
Apollo's claim seeks either for lots four and five to be awarded to Apollo or for the tender process to be "rewound to an appropriate stage" plus, or alternatively, damages.
However, Circle's defence denies that its evaluation of the bids was flawed or that Kier's prices were unsustainable.
According to the defence, Apollo itself submitted an outline pricing submission for lots four and five in December last year which Circle viewed as "worrying" because it was "significantly lower than the other bidders".
However, Apollo agreed to revise the submissions at that point by removing what it called "extra over" items, the defence said.
Later in the process, Kier's price submission for lot five had sparked concern but Circle had concluded, after meeting the contractor, that its bid should not be rejected, the defence added.
"Circle […] sought verification of various constituents of Kier's prices and, following such verification, decided not to reject Kier's bids as being abnormally low," the defence stated.
Although lawyers working on behalf of Apollo have submitted a short claim form to court and Circle has filed a defence, no detailed "particulars of claim" had been received by the court as Building went to press.
A spokesperson for Circle said: "We have followed a rigorous process in line with the European regulations, and will be defending the claim […] We hope to resolve this as quickly as possible."
Kier and Keepmoat declined to comment.
The case continues.