More than one company is interested in buying the division, contractor reveals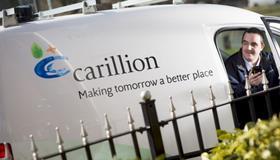 Shares in Carillion rose by 8% today after the troubled contractor confirmed it has received "credible" interest in its UK healthcare division, which it wants to sell as part of its attempt to restructure the business.
In a statement today, the firm said it had "received proposals from more than one credible counterparty for a possible acquisition of that business".
Healthcare specialist Serco, which employs more than 5,000 people and works for a number of NHS Trusts including Barts, Norfolk and Norwich – whose university hospital was built by the then Laing Construction and one of the first PFI hospitals to open – and East Kent has been named as a potential suitor.
At the end of September, the contractor announced a first half pre-tax loss of £1.15bn, after making nearly £1bn-worth of provisions on a number of construction contracts.
It also said it would be taking a further £200m hit on a "small number" of support service contracts.
At the time, Carillion said it would be seeking to raise cash by selling off what it called "non-core operations", including its UK healthcare arm, and that talks with potential buyers were "ongoing".
Today's announcement did not include mention of its Canadian operation, which it also wants to sell, and which generates turnover in the region of £600m.
Carillion has said it hoped to raise £300m from the sale of both divisions.
Shares in Carillion were trading at 47p today, having fallen to an historic low of 42p last month in the wake of the news about its financial position.