Number of investigations into construction at 10-year high, CMA says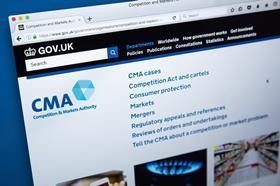 Construction firms are under greater scrutiny from the competition watchdog than they have been at any time in the past 10 years, the agency in charge of busting cartels has confirmed.
Back in 2008 the Competition and Markets Authority's (CMA) predecessor, the Office of Fair Trading (OFT), fined 103 firms more than £130m in total for anti-competitive behaviour.
Howard Cartlidge, CMA's senior director – cartels, said it currently had more cartel investigations in construction than at any time since that OFT probe.
These include five cartel investigations – although the competition watchdog said it was not specifically targeting construction but that it was following the evidence gained from its intelligence activities, whistleblowers and other suppliers.
Cartlidge said: "In recent years a number of serious allegations have reached us of cartel activity in various parts of the construction sector and so we have taken action to investigate. We have not pursued any deliberate strategy of targeting construction companies."
But Angelene Duke, associate at law firm Womble Bond Dickinson, said it appeared that the CMA had "prioritised" construction and that this was probably a response to poor practice in the sector.
She said: "The CMA does not have a lot of resources, so for them to prioritise a sector and have so many open cases does show that they must believe there is a lot of anti-competitive practice happening."
And Jim Martin, partner at QS Martin Arnold, added: "I'm sure cartels happen. Where you have specialisms where there are a limited number of players, you can very easily see a cartel forming."
Five years ago, a Chartered Institute of Building study found that almost half of those working in construction felt corruption of some kind was either "fairly" or "extremely common". This week the group's public affairs manager David Barnes told Building: "The industry is really under the microscope. The number one priority of the [department for business] is to change the construction industry's business model."
Last week the CMA said that three directors at fit-out firms found to be colluding on prices had been banned.
Womble Bond Dickinson's Duke said: "Director disqualifications send a very strong message, reminding people that individuals can face imprisonment and fines for breaking competition law."
In April, Fourfront, Loop, Coriolis, ThirdWay and Oakley were fined a total of more than £7m for colluding on the prices they would bid for contracts between 2006 and 2017.
JLL, which owns fit-out firm Bluu Solutions, which was involved in 12 of the 14 instances of cover-bidding and was the leader in seven, was not required to pay a fine, under the CMA's leniency programme.
But Robb Simms-Davies, a former director of Bluu Solutions, has been disqualified for five years.
Trevor Hall, a former director of Cube Interior Solutions, has been disqualified for two years and six months, and Oliver Hammond, a former director of Area Sq, has been disqualified for two years. Cube Interior Solutions and Area Sq are both part of Fourfront.
This comes after two directors at Somerset concrete firm CPM were banned last month for a total of 14 years for their role in fixing prices on precast concrete drainage products.