Late-running station won't be ready until after rest of central London route opens
Crossrail has admitted it is having to sink more money into its problem Bond Street station job in order to get it built.
The railway wants to have the station ready in time for the trial running of trains – which is due to start on 14 February next year.
A Costain Skanska joint venture was awarded the £200m Bond Street main station contract in February 2013.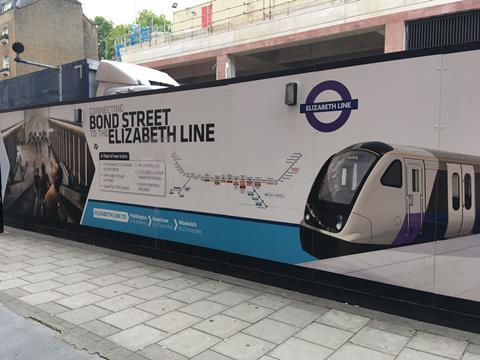 But the job is so far behind schedule it won't be ready until after the rest of the central section of the line has opened, which is currently scheduled for between next October and March 2021.
Recently published board minutes reveal Crossrail received a request for an increased "investment authority" (IA) for the main station works at Bond Street.
The August board meeting minutes said: "The board approved the additional IA in the sum of [redacted] for the Bond Street main station contract."
Earlier this year, Crossrail's board called for a change in leadership at the contractors building the station and revealed that as recently as August 500 people were still working on the job 24 hours a day.
Crossrail needs Bond Street at a sufficient level of completion for trial running to begin next February but the railway has recently admitted this date is now under increasing threat.
In the summer, Crossrail chief executive Mark Wild told the Transport for London (TfL) board that Bond Street was being flooded with resources to try and get it ready enough to accept trial runs.
He said: "Whatever Bond Street wants, Bond Street is going to get."
There have been concerns about growing costs on the Crossrail project, with its chair Tony Meggs admitting the scheme could be another six months late and need a further £400m to finish it off.
In September he told TfL that Crossrail's own scenario modelling "seems to support the possibility of a four- to six-month delay and a £300m to £400m overrun".