Debbie White joined company in September 2017
Interserve is rejgging its business after its chief executive of more than two years said she was leaving at the end of next month
The firm, which employs more than 40,000 people, said White had said she would be leaving the firm back in March – the month when it went into administration.
It came out of its brief administration under the control of its lenders, delisting from the London stock exchange.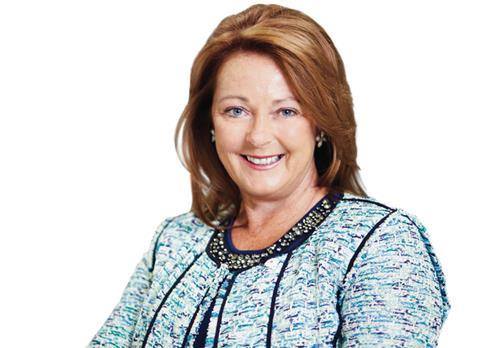 Debbie White (pictured), who began an immediate restructure of the business when she joined in September 2017 under an initiative called Fit for Growth, admitted: "The past two years at Interserve have been the most demanding of my professional career."
Speculation about the break-up of the business is now set to increase following the restructure which will see its three main operating divisions with its own chairman and managing director.
The role of chief executive will not be replaced in the new company operating model, the firm said. Group wide functions will be led by Mark Morris, executive director and chief financial officer.
The three divisional chairs will sit on the group board and report directly to group chairman Alan Lovell.
Interserve's construction arm will be chaired by former Balfour Beatty executive Nick Pollard, an existing group non-executive. Paul Gandy, who joined from Kier last month, will continue as the managing director of the business.
Its equipment services division that specialises in formwork and ground-shoring for major infrastructure projects will continue to be led by chairman Ken Hanna, the chair of power provider Aggreko, and Ian Hayes as managing director.
And Lovell will chair the support services division, which will be run in an executive capacity by Lynn Mawdsley, Interserve's former deputy chief financial officer.
White, who joined from services firm Sodexo, replaced Adrian Ringrose who had spearheaded its disastrous move into the energy-from-waste sector which landed it with crippling losses of more than £200m.
Debbie White's time at Interserve
September 2017: Debbie White joins Interserve as a chief executive
April 2018: Announces £244m pre-tax loss for 2017 with net debt at year end standing at £503m
13 November 2018: Interserve shares sink to 34 year low
6 February 2019: Interserve unveils details of its plan to deleverage the firm's balance sheet that will be finalised in coming weeks, before being put before Interserve's existing shareholders for approval. In an update on the plans, the firm said it expected to reduce its net debt to around £275m by issuing around £480m of new Interserve equity to its creditors.
27 February 2019: Announces 2018 pre-tax loss of £111.3m
5 March 2019: At 11am an Interserve general meeting begins before a shareholder vote on the firms rescue plan. By 2pm Interserve announce it has lost the rescue deal vote, and later that afternoon announces it will apply for administration, with lenders agreeing to write-off more than £800m. By nightfall big-four accounting firm EY confirms it is the administrator.
10 June 2019: It's revealed Interserve went under owing creditors more than £100m
15 November 2019: Debbie White announces she is leaving
A graph of Interserve's share price collapse