Figures released ahead of legal deadline show women make up only 6% of firm's highest-earning staff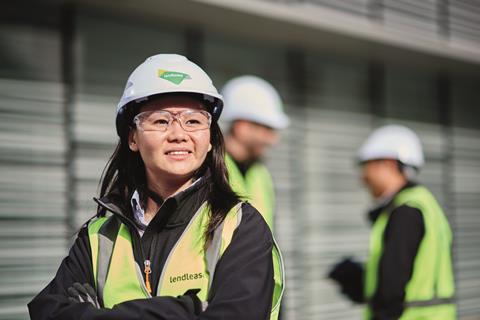 Lendlease has become the first major contractor to publish its gender pay gap figures, which show that women at the business earn on average one-third less an hour than their male colleagues.
From next April, all firms in the UK with more than 250 staff are required by law to publish annual figures showing the pay gap between their male and female employees, with the results being published on the employer's own website as well as a government site.
But the Google headquarters builder has decided to break ranks and publish its results early – showing that, on a measure of hourly fixed pay, women are on average paid 30.4% less than men.
The highest 25% of earners in the construction business – which employs more than 800 people – are nearly all men, with just 6% of this highest-paid quartile being women.
Men also head the earnings tables in the other three pay quartiles. Women's bonuses at the firm are 65.4% lower than men's – although 78% of both male and female employees take home a bonus.
Just 19% of Lendlease's workforce is made up of women, with only 7% in senior management roles.
The firm admitted it faces a "challenge" to achieve parity. Dan Labbad, who oversees the firm's UK construction and development businesses, said: "We recognise closing the gender pay gap will take time and like so many have much more to do."
But the figures are better for Lendlease UK, the business that includes both construction and the firm's development arm, which is behind the revamp of the Elephant and Castle area of south London.
Under the new laws, Lendlease is required to publish data only for its construction arm – because its development business employs just 158 people – but the firm said it is publishing the data for its whole UK operation because "it [is] important to analyse and publish data for our Lendlease UK business overall".
More women – 78.8% compared with 78.4% of men – earn a bonus at Lendlease UK, but the amount women pick up in bonuses is still 46% lower than for male colleagues.
On fixed hourly pay, women at Lendlease UK are on average worse off by just over 19%.
The highest 25% of earners at Lendlease UK consists of 20% women, while the firm took in more female graduates this year than male.
Lendlease said it has introduced a number of initiatives to get more parity at the business, including maintainig levels of female graduates at 50% and also aiming for a 50:50 target for its future leaders programme. The firm said it had increased senior female representation in the last 18 months from 24% to 29% and was targeting a one third figure by 2020.
This week's poll: should more construction companies follow @LendleaseGroup's example and publish gender pay gap data before next April?

— Building News (@BuildingNews) October 27, 2017