Former chairman the 'fall guy' but ex-chief executives including Andrew Wolstenholme also responsible for debacle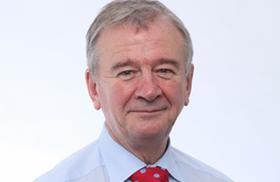 Terry Morgan is being made the scapegoat for Crossrail's problems and the finger of blame also needs to be pointed at the railway's former chief executives such as Andrew Wolstenholme, the leader of the London Assembly's transport committee has said.
Caroline Pidgeon said Morgan, who stepped down as Crossrail's chairman last December, was being made the "fall guy" for the issues which have engulfed the scheme.
But she said others are culpable for the woes which have seen project bosses already admit the scheme will not open this year – meaning it will be more than 12 months late – while it has had to be bailed out by close to £3bn with the Department for Transport admitting this month it still doesn't know what the final bill will be.
Former chief executives, including Wolstenholme and Simon Wright, needed to be held more responsible for the problems, Pidgeon told a meeting of the committee yesterday.
She said: "I think it's sad that he's [Morgan] become the fall guy for this because when you actually look at the evidence we had from the former chief executives who are supposed to be world experts leading on the project and what they were being paid, I think they need to take more responsibility.
"Sadly, that hasn't quite happened."
Transport for London commissioner Mike Brown, who was being questioned by the committee, admitted Pidgeon had raised a "fair point".
Speaking about Morgan's nine years in charge, Brown added: "It's a shame that the fantastic years of public service the previous chair [Morgan] gave on this project ended the way it did. I take no joy in the situation that has emerged."
Wolstenholme left last March, having picked up nearly £5m in pay during his time there, and at the time transport secretary Chris Grayling said his seven years in charge of the railway "would leave a lasting legacy across the industry".
But Wolstenholme came under fire in a London Assembly report this week which said his decision to query why part of his bonus had not been paid was "symptomatic of a culture that, while encouraging unchecked optimism, has also encouraged a denial of responsibility".
Brown also refuted the suggestion the transport committee made in the same report that he should consider standing down over Crossrail.
He said: "I'm not reflecting on whether I'm fit to be in position. I believe I am; I have support of the mayor and that's the end of that issue from my point of view."