TfL chief and London mayor expected to join railway's bosses at London Assembly briefing next Thursday
Crossrail bosses are expected to announce next Thursday when they think the new line will open.
Facing questions from the London Assembly's transport committee earlier today, Transport for London chief Mike Brown said he, along with Crossrail's chief executive Mark Wild, its chairman Tony Meggs as well as London mayor Sadiq Khan were preparing to explain the new plan.
He said: "The mayor has written to the chair of the Assembly offering a briefing from [the four] as soon as we have a clear and indicative plan of the new schedule emerging."
At this morning's meeting, committee chair Caroline Pidgeon said she understood the briefing looked likely to take place a week today (2 May).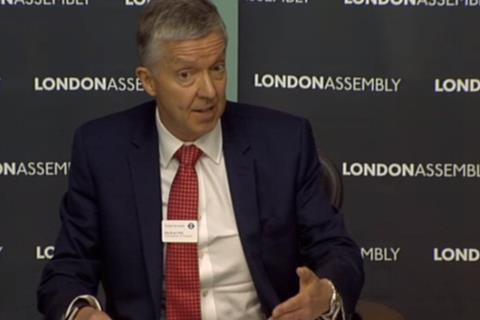 Wild has previously said a new opening window would be made public by the end of April, admitting Crossrail won't open at all this year.
Reports before Easter suggested Crossrail might not be ready until spring 2021 – nearly two and a half years after it was supposed to open.
Sources told the BBC that testing was "proving more difficult than was first thought", saying: "It all depends on how dynamic testing goes between now and the end of this year.
"The last quarter of this year will be a critical period for the testing."
The source said a "best case scenario" would see Crossrail open in spring 2020, while a "middle probability case" would be the summer of the same year. The source said: "A worst case is the spring of 2021."
In a letter to Pidgeon sent at the start of the month, Wild revealed that close-headway testing – which tests running trains close together – had fallen behind.
He said the testing, which was due to start more than five weeks' ago, had been pushed back until after Easter due to a "safety critical failure". In his letter to Pidgeon, Wild did not spell out what this failure was.
Watch Mike Brown and the transport committee