Fireclad and Harrison Jorge sank after client on loss-making contract refused to increase prices
A 25-year-old dry-lining firm and its sister plastering company collapsed due to crippling materials and labour costs, administrators for the firm have said.
Fireclad and Harrison Jorge (HJ) went into administration last month owing dozens of creditors more than £4m, having been unable to cope when the client on its main loss-making contract refused to increase prices.
According to a report by Interpath, one unsecured creditor, a Sheffield-based insulation supplier, is owed more than £960,000 by Fireclad.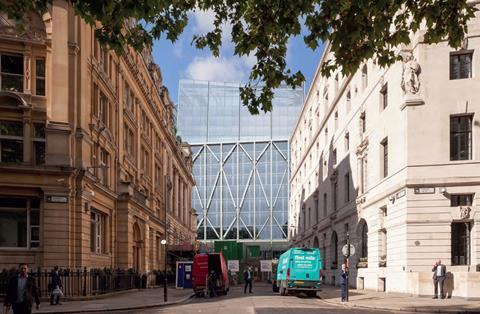 In total, the company owed £3.3m to the supply chain, while HJ owed £925,640.
The report lists Fireclad's 72 employees as unsecured creditors, owed nearly £651,000, and as preferential creditors, owed £17,500. HJ had no listed employees.
The two firms, both owned by holding company Adparo, had a combined turnover of £32.1m.
They worked mainly on London commercial jobs, including an £18m package of works on 21 Moorfields, the new Deutsche Bank HQ being built by Sir Robert McAlpine for Landsec.
According to the administrators' report, directors at Fireclad, which was incorporated in 1996, took the decision to cease trading "when it became clear that the client on the company's main loss-making contract was not prepared to increase prices".
>> Who pays for materials price inflation?
>> Over the line: How 21 Moorfields was built above a station
"This meant the margin the company had previously been making was quickly eroded, making the contracts untenable and the company unable to meet debts," it added.
The report listed increased materials costs, resulting from the war in Ukraine, as well as poor labour supply in the wake of Brexit and coronavirus as major pressures on the firm.
Secured creditors include Aldermore Bank, which is owed just over £240,000, and Metrobank, which is owed more than £2.9m for a coronavirus loan. The former is expected to recover this debt in full.
The Adparo group also owed £360,000 in VAT to HMRC – which is listed as a secondary preferential creditor – but the administrators said it was "uncertain" that this debt would be recovered.