Contractor launches new cost cutting drive as construction division hit by problem project and difficult market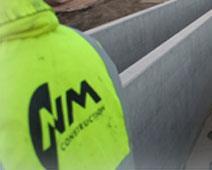 North Midland Construction has seen turnover fall 18% and pre-tax profit plummet 91% in the first six months of 2012.
In a statement to the City, the firm said pre-tax profit in the six months to 30 June 2012 was down to £115,000 from £1.3m in the first half of 2011.
However, its 2011 half year profit had been boosted by an exceptional item of £1.2m from the successful appeal of a fine imposed by the Office of Fair Trading.
The firm also saw revenue decline 18% from £91.3m over the same period in 2011 to £74.8m.
The firm's building and civil engineering division reported a loss of £0.28m for the first six months of 2012, which Robert Moyle, chair of North Midland Construction, said was due to a "problematical major project inherited from the building subsidiary".
He added: "Major resources have been committed to the completion of the principal loss-making contract and the associated contractual claim and once this occurs, the division's performance will progress."
He said: "These results are extremely disappointing and are exacerbated by one off provisions and the overall decline in UK construction sector output, which has become significantly more pronounced in the first half of this year.
"Restructuring is ongoing to reduce the cost base to accommodate this market shrinkage in the short term and provide a platform for growth in the future.
It's highways division also saw profit fall from £252,000 to £132,000 over the period and it's utilities division slid from a profit of £595,000 into a loss of £219,000 over the period.
Moyle said highways work had been hit by public sector spending cuts.
He also said the utilities division's large presence in the telecommunications sector had seen it hit hard by major companies cutting back on expenditure.
"A restructuring programme had been implemented to deliver significant cost reduction, however the severity and scale of the expenditure cutback will necessitate a further reduction in the scale of the business to match the current market," he said.