Henderson Global Investors unveils plans for stepped City tower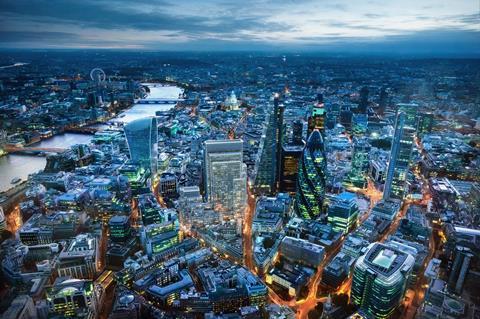 Henderson Global Investors has today launched plans for a Make-designed stepped tower rising between 7 and 34 storeys in the City of London.
The total size of the building is 910,000 sq ft, split between 890,000 sq ft of office space and 20,000 sq ft of retail.
The building will be located at 40 Leadenhall Street in the City of London and the construction programme is expected to create 390 full-time construction jobs.
The plans will be presented to the public today at an exhibition running from 12-7pm at St Katherine Cree Church, 86 Leadenhall Street, EC3A 3BP.
A grade II listed building at 19-21 Billiter Street, built in 1865, will be restored and integrated in the proposed scheme.
Henderson acquired the 'Leadenhall Triangle' site on behalf of clients in May 2011. It has since been working on viable options for the site.
The development has been designed to meet the BREEAM Excellent standard.
Nick Deacon, central London offices property director at Henderson Global Investors, said: "Henderson's plans for a new high quality office building on Leadenhall Street will be a fantastic addition to London's dynamic insurance district.
"It will sit within the City's eastern cluster of tall buildings and it has been designed as a series of vertical elements to complement the other taller and adjacent buildings in the heart of the City.
"It represents Henderson's continuing commitment to the City of London with improved public realm and pedestrian routes and the highest standards of sustainability and environmental performance."
Geoff Harris, director of property development at Henderson Global Investors, said: "We are proposing a scheme which will fit in with the rich urban character of streets and spaces of EC3 with tall towers and lower rise blocks, primary thoroughfares, hidden alleyways and discreet public spaces.
"Make has designed a great building in a location which can accommodate a tall building but which varies in height from 7 to 34 stories to respect local and strategic views. It is also highly sustainable given the environmental measures that have been adopted and great local transport links.
"The building is also a vote of confidence in the City of London and a major boost to investment, growth and employment in the economy."
Paul Scott of Make, said: "At the heart of the City's insurance district, the shifting vertical planes of our scheme rise to complement the cluster of tall buildings on the skyline and sensitively terrace down in southern views from and across the River Thames.
"An exemplar of environmentally progressive design, the building will reduce carbon emissions by over 40% compared to current regulations and lead the next generation of city centre office buildings."