The project will redevelop Swinton town centre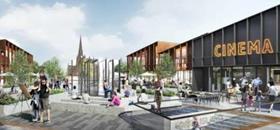 Rotherham Borough council has started the search for a developer to partner with it on the £20m redevelopment of Swinton town centre.
The chosen developer will be responsible for drawing up a masterplan for the overhaul of the South Yorkshire town.
In a contract notice published to the Official Journal the council said the new plans need to include housing, a new community hub, as well as improved connectivity and public realm.
The firm's masterplan will also be required to improve existing retail and residential units as well as produce a limited amount of new retail space.
Companies have until 21 June to register their interest in the scheme, with work on the project due to start by the end of the year.
The announcement comes eight months after Morgan Sindall-owned Muse Developments was picked by the council as its preferred partner for the first phase of a mixed-use scheme in Rotherham (pictured).
Called Forge Island, the proposal includes a cinema, food and drink outlets, a hotel and new leisure facilities. A footbridge will link the site to the rest of the town centre.
The first phase of work will include the main island and part of a riverside precinct, incorporating the central hub hosting the cinema, hotel and restaurants. Work is due to start this October and take two years to complete.