Mark Wild tells MPs central London sites will now be finished after signalling works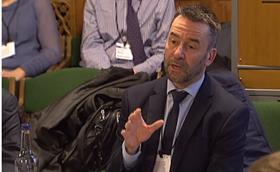 The man tasked with finishing Crossrail has revealed that the construction programmes on the nine new Crossrail stations began to slip as early as 2016 meaning they are now unlikely to be finished before the signalling works is completed.
Crossrail chief executive Mark Wild (pictured) told the Public Accounts Committee, the government's spending watchdog, that the writing was on the wall as early as 2016 that the station projects, which should have been completed before the signalling, were falling behind.
Wild said: "You really want the stations built before you put the trains through the tunnel for obvious reasons and now, we are in the opposite situation.
"It is likely we will finish the railway systems before the stations.
"I think if the stations had held their baseline programme I do think it was achievable [getting them completed before the signalling] but when they started to slip we should have taken a breath."
Wild told the MPs that problems with the station construction programmes had first emerged in 2016 and 2017.
He also confirmed there was no chance the railway would open this year and admitted that he could not guarantee the project would open next year.
Wild said he was still not in a position to give an opening date for the railway – but that it would not be 2019.
He said the project did not have enough time to finish off the nine central London stations as well as carry out the necessary train checks in order to open this year.
Wild said: "There is no opportunity of opening this railway in 2019. We would very, very much want to get this done in 2020."
Crossrail's chairman Tony Meggs said the project would announce a timeframe of when it expected the project to open next month but that Crossrail would be announcing a date range rather than a specific opening date.