Ike Ijeh takes a look at 2019's completing projects, including a brace of international museums and a couple of London tall buildings – even if some of the schemes have kept us waiting a while…
The year ahead will see a varied mix of building completions, with tall buildings in London again making a significant impact and the anticipated completion of the country's biggest sports venue since the London 2012 Olympic Games.
While cultural projects will take a low profile in the UK compared with last year, there is a significant addition to Milton Keynes' art scene, and further afield, there are cultural projects on a grander scale, with the completion of the stupendous National Museum of Qatar and international celebrations for the Bauhaus centenary.
Crossrail makes its second entrance on an annual preview, but, as with much of its four-decade history and Britain's infrastructure redevelopment in general, patience rather than certainty remains the order of the day.
22 Bishopsgate
PLP Architecture, London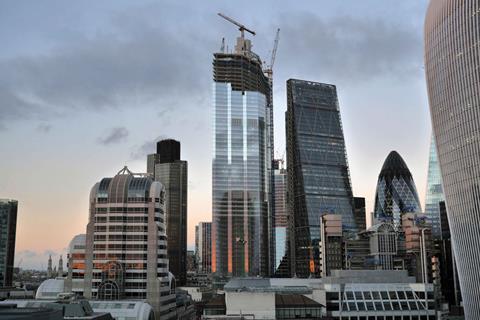 The emergence of 22 Bishopsgate is – standing as it does on the site of the Pinnacle's stalled "stump" – in many ways a symbol of renewal and resurgence.
The pace with which the planning proposals progressed through the notoriously picky planning process of the City of London is testament perhaps to the thought and care put into making it a superior proposition as a workplace.
The brainchild of veteran developers Sir Stuart Lipton and Peter Rogers, this 178m-tall tower with a construction cost of £600m is a truly cutting-edge scheme. The building is pioneering a potentially revolutionary fire escape strategy that will enable lifts to be used in evacuations and has also set high targets for wellbeing and sustainability. It was the first significant city office building in the UK to get WELL certification, and some 10% of the space will be given over to communal facilities such as a gym, a food market, an innovation hub and a health treatment centre, and the city's biggest bike park with up to 1,700 bike spaces and Brompton bicycle hire. All this as well as flexible office space for the predicted 13,000 people that will routinely work there – although its collossal height and 1.3 million ft2 of office space means it could house up to 30,000. Initially due to complete this coming summer, Lipton said in a Building interview that wind had hampered work using cranes, meaning completion is now expected in November.
So far at least 10 floors have been let – to three insurance companies – and Lipton predicted that up to half the floors would be taken by the time it opens, which he said should be in early 2020.
Twenty-two Bishopsgate may stand as a powerful symbol in 2019 of how construction projects can spring, phoenix-like, from problem situations.
Tottenham Hotspur Stadium
Populous, London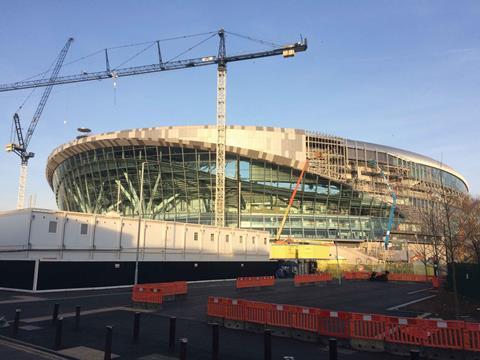 Nearly four months after Spurs' stadium was due to open, there is still no official opening date. The club announced back in August that "safety concerns" meant it would not open for its planned match against Liverpool on 15 September. Since then Building reported the main cause of the Tottenham stadium delay has been the discovery of faulty wiring in the fire detection system. It is understood remedial work is being carried out on about 12,000 fire alarms at the ground – at a rate of up to 400 being checked every week. It was also reported last month that a leak was encountered in the roof of the south stand, although the club insisted it was minor and would not further delay the opening.
The club's ambition to open during the 2018/19 season may still be realised, and as Building reported last month it is in talks with Uefa about whether it can play its Champions League game against Borussia Dortmund on 13 February at its new home, provided its contract manager Mace can finish the job in time.
When the 62,000-seater stadium does eventually open, not only will it be London's fourth-largest stadium after Wembley, Twickenham and the former Olympic stadium but also it will be one of the most innovative and state-of-the-art football grounds in Europe.
Features will include the world's first retractable natural turf surface (concealing an American football pitch beneath) and the largest single-tier home-end stand in the UK, as well as a five-storey entrance atrium and an expansive public square. The venue also boasts an adjacent 180-room hotel and lavish hospitality facilities (including a double-height banqueting hall), surpassing those at the celebrated Emirates home ground of perennial north London rival Arsenal.
One Blackfriars
SimpsonHaugh, London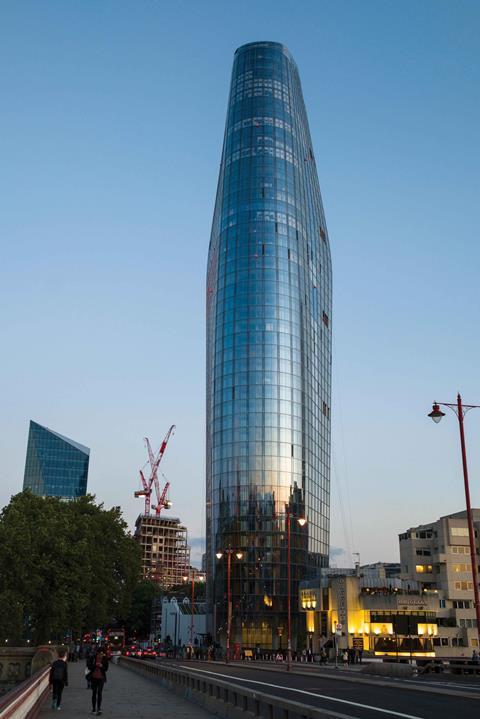 This year marks the completion of upmarket developer St George's second residential skyscraper on the south bank of the Thames. The first, One St George Wharf, in Vauxhall, was one of the first of the new generation of tall residential buildings in London. Looking like an overblown hypodermic needle, it only secured planning permission after deputy prime minister John Prescott overruled his own advisers and the planning inspector who had turned it down.
St George has gone to considerable lengths to avoid making the same mistake with the 50-storey One Blackfriars, which is central London's tallest residential tower since the Barbican. Containing 273 private flats, it was designed by Iain Simpson and features a distinctive curved, double-skin glass facade containing a continuous envelope of winter gardens. No expense has been spared; the building features 5,476 pieces of individually curved glass panels to ensure the facade looks as smooth and elegant as possible. Inspired by a 1950s vase, the building bulges outwards towards its midsection. Simpson says his building differs from other London skyscrapers due to its dynamic and asymmetrical form, which plays on the reflection of light from the ground and river below.
Most of the flats have been sold but if you have £12.5m to spare there is still time to reserve a three-bedroom apartment on the 42nd floor, which St George says will complete in the first quarter of this year.
MK Gallery
6a Architects, Milton Keynes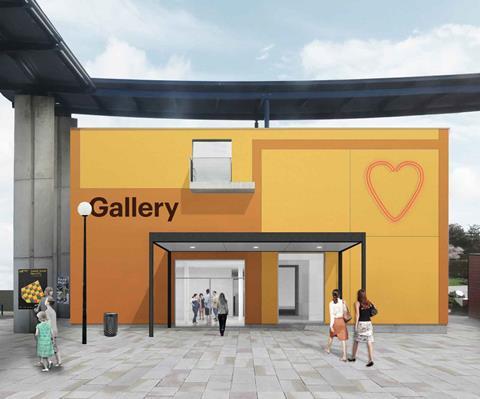 After a bumper 2018, this year will look comparatively thin on the cultural super-project front. Last year saw the opening of the Kengo Kuma-designed V&A Dundee, a stunning 8,000m2 gallery with a facade inspired by the rugged cliffs of north-west Scotland on the banks of the River Tay. Burlington House, the home of the Royal Academy, was comprehensively remodelled by David Chipperfield, and the Royal Opera House was transformed by the addition of a new foyer and auditorium.
On a more modest scale but by no means insignificant is the revamped MK Gallery in Milton Keynes which is scheduled to open this March. Designed by 6a Architects, the gallery is a major enlargement of the original 1999 gallery. The new building is a polished stainless steel box made up of square panels said to evoke the original grid of Milton Keynes and a huge circular window, which echoes the circular forms found in nearby Campbell Park.
The gallery will house five exhibition spaces including one over 9m high, a cinema, a community hub and cafe. The new entrance echoes the original with a sandstone and terracotta coloured facade and some symbols that were chosen to represent Milton Keynes early in its history, including a giant heart and a double-headed axe, which features on the town's coat of arms.
National Museum of Qatar
Jean Nouvel, Doha, Qatar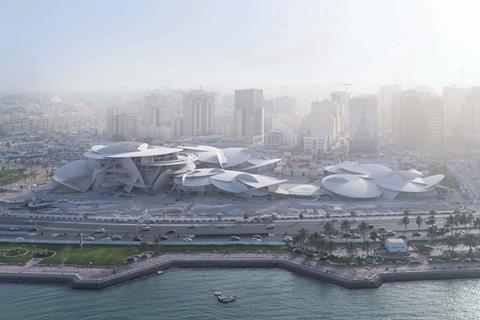 Middle East big-ticket architecture can be relied on to attract the kind of spending and attention that others can only dream of. Jean Nouvel's National Museum of Qatar, with a reported budget of $434m (£342m), is some four times as expensive as Kengo Kuma's recently opened V&A Dundee. It is expected to open in March this year – after considerable delays that some commentators put down to a slowdown in spending after a dramatic fall in the price of oil.
Time and cost aside, the new venue promises to be one of the world's most important cultural openings of the year. And in the same way that Nouvel's huge geodesic dome for the Louvre Abu Dhabi was inspired by local heritage and fauna, so too is the Qatar museum a meditative architectural response to the emirate's culture and landscape.
Contextual sensitivity has been particularly important as the site is right next to the recently restored Sheikh Abdullah Bin Jassim Al Thani palace, home of the former Emir of Qatar and one of the most important cultural and historic sites in the state.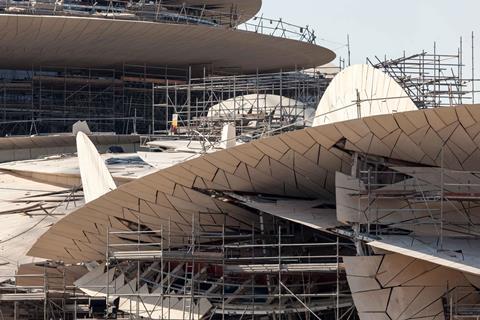 The new museum's roof is formed by a series of giant interlocking discs of various sizes, each one made from steel-clad glass reinforced concrete. The structure has been inspired by the sand roses that are found in the surrounding desert, while the overhung cavities created by the overlapping discs provide shelter from the sweltering desert heat.
As well as its principal galleries, the 40,000m² museum will contain a 220-seat auditorium, a research centre and laboratories, along with various restaurants and retail outlets and a new 115,000m² public park that comes complete with an artificial lagoon.
The museum is part of a massive cultural construction programme in the emirate, which also saw the completion of architectural practice OMA's vast National Library of Qatar last year.
New Bauhaus Museums
Heike Hanada, Benedict Tonon / González Hinz Zabala, Weimar / Dessau, Germany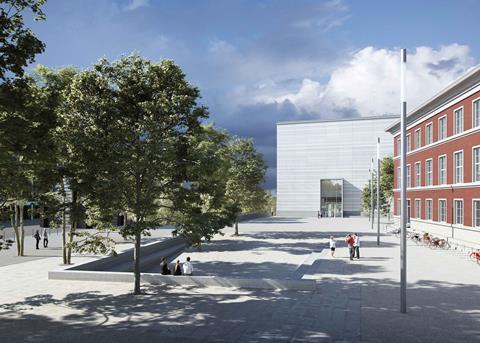 This year marks a significant centenary in design history: 100 years since Walter Gropius founded the State Bauhaus art school in Weimar and helped establish a movement that was to revolutionise architecture, art and design across the world throughout the 20th century and beyond. Accordingly, celebratory events, exhibitions and retrospectives will be held across the globe (including at Tate Modern) but it is in Germany that the principal focus will lie.
In commemoration, Bauhaus' home nation is building not one but two new art museums that will together comprise the largest collection of Bauhaus artwork and artefacts in the world. Opening first, in April, will be a building designed by Berlin-based architects Heike Hanada and Bendict Tonon. The competition-winning design creates a minimalist, monolithic cube nestling on the edge of the city's Weimarhallenpark (pictured). In the Bauhaus tradition, the facade features monochrome orthogonal geometry with "floating" panels of opaque horizontal glazing that are interspersed with an asymmetrical grid of black metal mullions, all of which are illuminated by LEDs at night. The museum will contain more than 2,200m² of gallery and exhibition space.
The second museum by Barcelona-based studio González Hinz Zabala is located in Dessau and opens in September. The building has the same modernist geometric rigour as its Weimar equivalent, this time expressing itself as a low-slung "black-box" trimmed with vertical fins.
Intriguingly, this competition-winning scheme was a joint winner with New York practice Young & Ayata's proposal, which saw the museum more abstractly expressed as a cluster of colourful pods. A subsequent cost analysis process eventually selected the more rational scheme as the overall winner.
Crossrail
Various, South-east England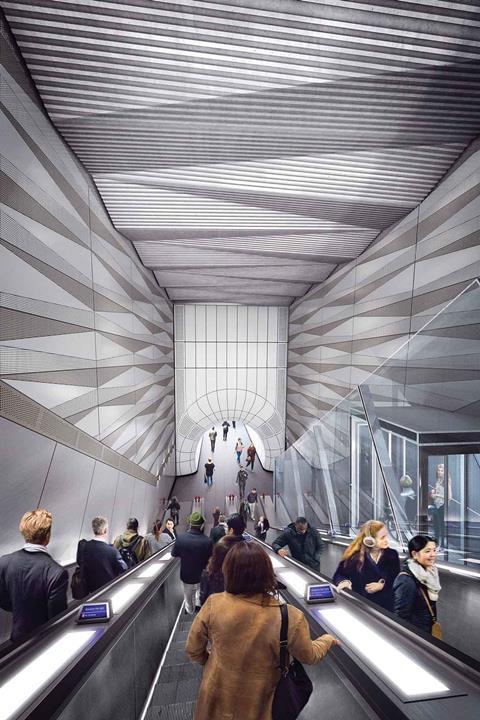 After half a century of planning, decades of political procrastination, 73 miles of new and upgraded track, 40 new and expanded stations, 26 miles of tunnelling under London and £15.8bn of public/private investment, Europe's largest infrastructure construction project was all set to finally open last month. But the perennial bogeymen of British infrastructure – rising costs and a delayed programme – pounced with a vengeance last August, and a bombshell announcement revealed that the entire project was delayed again until autumn 2019. Hence its second consecutive appearance on an annual preview round-up.
The latest opening date was given under the leadership of Terry Morgan, who has since stepped down from his role as Crossrail chair and whose assessment of progress on the scheme London mayor Sadiq Khan called "far too optimistic". A new financing deal was agreed to provide the £1.6bn-£2bn a KPMG report said was needed to complete the project. The new chief executive, Mark Wild, has not yet given the project any revised estimated time of arrival.
While a further delay would be politically explosive, the as-yet unresolved ingredients of the last delay – alleged deficiencies in signalling, finance and management – mean the Elizabeth line's opening date could well move before its trains do.
Should the service open this year, commuters will find the line's new and revamped stations a bit of a mixed bag architecturally, which only in places equals the ambitious heights of Transport for London's last infrastructure mega-job, the dazzling Jubilee line stations of the 1990s. What will undoubtedly impress is its scale, with vast central tunnel section stations such as Tottenham Court Road, Farringdon and Liverpool Street (pictured) burrowing gigantic Moscow-esque platforms and concourses deep under the ground.
But as has always been the case with Crossrail, its visual appearance will be somewhat overwhelmed by what it represents, namely a critical chance to vastly upgrade London's public transport capacity and a modern-day opportunity to revive the pioneering infrastructure spirit of the Victorian railway age.