If the UK is to win work on overseas infrastructure megaprojects, we will have to get better at forming consortiums that offer the whole package. The newly-formed Infrastructure Exports: UK group may be able to help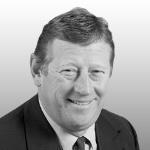 Most people who know the UK's infrastructure industry would have to admit that on the global stage, we are punching below our weight. Of course, there are many examples of architects and engineers successfully exporting their excellent capabilities internationally. But as an industry, we are being beaten to many big prizes because other countries are forming consortiums and offering complete solutions – everything from the conceptual design to engineering to project management, and further.
This is not just an infrastructure problem. Despite being the fifth largest economy in the world, the UK is only the 11th largest exporter. The UK exports less than the Netherlands, which is the 18th-largest economy. There's a sign that something is wrong in how the UK approaches exporting.
Export has to be a bigger percentage of our economic mix. While the government has confirmed its commitment to funding the domestic infrastructure market – with £483bn worth of projects in our National Infrastructure Delivery Plan for 2016-2021 – we need the scale offered by export markets to allow us to grow and invest in skills and innovations.
There are some big prizes. Governments in the frontier markets need to develop infrastructure – especially in airports, water and rail – to help them meet their economic growth targets.
The challenge is, however, that infrastructure export opportunities are increasingly "megaprojects" that require companies to partner. Governments are looking for complete packages. British architects and engineers have done a good job of winning individual projects, but other countries are forming teams, winning work with a greater average value in consortiums solutions ($1.5bn) than traditional project procurement ($1.1bn). It would be madness for us not to learn from our competitors.
Her Majesty's Government recognised this, and in the Industrial Strategy Green Paper released earlier this year was a proposal to "test a new Team UK approach to trade, convening consortiums of businesses around UK Export Finance backed funding to bid for major overseas contracts, and providing the strong political support that competing countries often do."
This approach was confirmed in the Conservative Party manifesto, and the Department for International Trade has made the infrastructure sector a priority, having just announced the creation of Infrastructure Exports: UK (IE:UK).
I was pleased to be invited to co-chair the group, which was publicly launched on 5 July and will start meeting this month. Greg Hands MP, international trade minister, will be the other co-chair, and the effort enjoys the direct involvement and support of secretary of state Dr Liam Fox MP.
It's time for a step change in how we export our outstanding capabilities
So the political will is there. Now we have to make it happen. Here's how it will work.
Rather than the old style of trade promotion – organising trade missions and casting a very wide net (both geographically and sector-wise) – IE:UK will target specific opportunities, analysing the precise needs, then forming the best consortium to represent Britain.
This will be industry led. The IE:UK board consists of 19 members, all but three of which are from the private sector. Members are senior leaders representing a broad range of well-known players, including designers, consultants and contractors.
The government will contribute research into opportunities, which will be complemented by industry insights. Critically, the government will take a customer-centric approach, taking its lead from industry, not imposing its own agenda.
The IE:UK board will agree which opportunities to pursue, then develop specific work streams, which will pool government support and industry players. Importantly, work stream membership is not restricted to board members; representatives from a range of companies able to contribute to the consortium will be invited.
Work streams will likely target contracts worth a minimum of £100m – projects for which a consortiums approach makes most sense, providing the best opportunity for involving smaller firms.
The government will also support with project management and marketing, and it will deploy political support both from London and its global network.
Of course, the proof of concept can only be measured in contracts won. Right now, we can only report on strategy and preparations. But I am convinced this is the right approach, featuring:
Better and more advance planning, engaging all players earlier in the process of identifying export opportunities and – where we have the intelligence and contacts – gaining first-mover advantage
Closer cooperation between government and business, with business as the primary decision maker
An inclusive approach, inviting all of the built environment sector to take part in work streams where companies have something to contribute
Ambition, going for bigger prizes by developing consortiums and offering complete solutions.
And overall, it's about a more strategic approach, focusing on the opportunities where British business has the greatest likelihood of success.
I know that the UK can offer world-class solutions, and it's time for a step change in how we export our outstanding capabilities in infrastructure design and delivery. I hope that IE:UK will play a major role in creating this change.
James Wates is chairman of Wates Group, the CITB and Build UK