West Ham-loving chairman Kevin Taylor tells Building about the early days, new markets and why pent-up demand means the bubble won't burst yet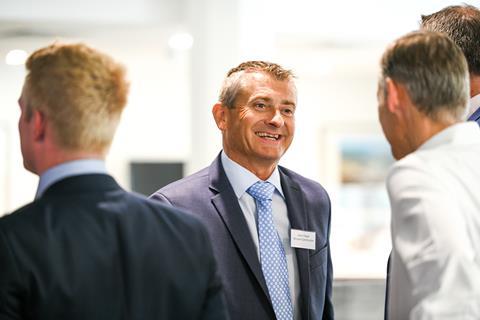 Kevin Taylor is a man who doesn't do too many interviews.
The McLaren chairman rarely breaks his silence but he is a well-known West Ham supporter so the obvious question to ask him now that he has is: who is his favourite ever West Ham player?
The 55-year-old from Forest Gate, a Hammers season ticket holder with seats behind the home dugout, laughs when it's pointed out to him the team has just had its best season in years just at the same time the vocal fanbase, known for their strident criticism of an under-performing team, wasn't allowed in the London Stadium because of the covid-19 pandemic.
He is too young to have been a fan during Bobby Moore's time at the club, so instead plumps for Billy Bonds, Trevor Brooking and Alan Devonshire who all played in the 1980 FA Cup final win, the club's last major trophy, with Brooking scoring the only goal against Arsenal. The team finished sixth in the Premier League last season, one place above Tottenham, who some might say is now West Ham's biggest foe, eclipsing its rivalries with Chelsea and Millwall.
Would Taylor, then, have refused to build the new Spurs stadium, if he had wanted to, on moral grounds? He chuckles but adds quickly: "Don't forget we did their training ground a few years ago. [Spurs chairman] Daniel [Levy] was a perfect gentleman. It's fair to say, we had some banter."
Taylor is speaking as McLaren prepares to plan for a bumper year ahead. Covid sent turnover down £125m last year to £526m in the year to July 2020, a figure which it says will recover to £600m when its current financial year ends in a few weeks' time.
But it is its income for the following year that Taylor is most excited about with McLaren expecting to hit a record £700m.
We like to see steady growth in a fashion that's safe and sustainable. We're not going to overstretch ourselves

Kevin Taylor, McLaren chairman
Turnover is not the be-all and end-all for the man who owns a 90% stake in the business. "Growth can be turnover, it can be profit, improvement in the business and improving people. Clients come to us because they like the service we offer."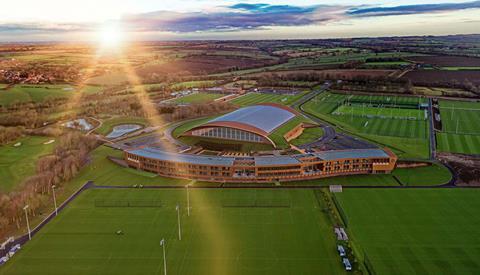 He started McLaren 20 years ago after spells at Costain, Birse and Fitzpatrick. The McLaren name is a nod to his grandfather's Aberdeen roots and, besides, the McLaren group domain name was still available, having not been picked up by the better-known F1 racing team.
Along with group managing director Phil Pringle, who owns 10% of the business, and a sole IT person that was pretty much it. Two decades on, it now has 700 staff and last year completed its most high-profile job to date – a £120m training ground complex for 2016 Premier League champions Leicester City.
He decided to set up McLaren after returning the construction arm of Fitzpatrick to profitability. "I thought I could do it myself," he says. He spent half a dozen years at Fitzpatrick, later joining the main board, after a similar amount of time at Birse, bought in 2006 by Balfour Beatty.
For those with long enough memories, Birse made headlines in the mid-1990s when it appointed a culture director, complete with slogans such as 'Be helpful – it costs nothing', to address a reputation it was difficult to work with – both for clients and subcontractors alike. His first job was at Costain as a trainee surveyor.
Initially, Montpellier, which later changed its name to Renew, had a 30% stake in the McLaren business which Taylor bought back a few years later.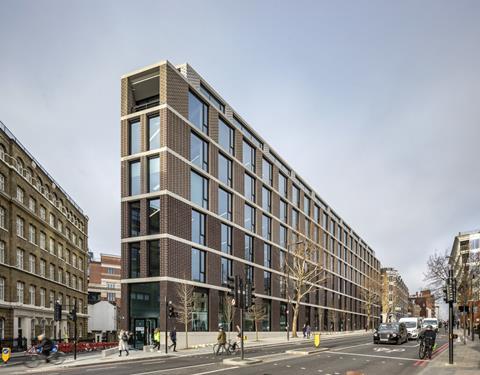 McLaren's first job was for Land Securities, a £5m scheme to build offices and industrial units in Hemel Hempstead. Since then, its roster of clients reads like a who's who of blue-chips – Argent, Muse, Amazon, British Land, Quintain.
The Leicester job is arguably its signature job so far but Taylor is adamant. "We don't need a trophy project," he says. "We like to see steady growth in a fashion that's safe and sustainable. We're not going to overstretch ourselves."
The sectors it's already in include residential, hotels and offices. Industrial and logistics, too, and sport and leisure where it is talking to three Premier League clubs about stadium upgrades.
What we're trying to do with some jobs is design some parts earlier so we can pre-order certain products to minimise the impact of inflation

Kevin Taylor
New sectors include data centres and healthcare where it is on site with its first hospital job at the Queen Elizabeth hospital in Woolwich, a PFI scheme built by Skanska that was opened in 2001 and which is now having its M&E upgraded.
Taylor says the job is worth £30m and could be as much as £60m and with a renewed government focus on hospital spending in the wake of the pandemic, he says it makes sense to look at more healthcare work.
> Also read: An invitation to the largest hospital building programme in a generation

Covid sent much of the industry into a nosedive for a few weeks last spring and McLaren was no different. The firm began to have meetings about what was coming, given its operations in the Middle East, where it has been operating for 12 years and has two offices, in Dubai and Abu Dhabi, had begun to be hit by the pandemic some weeks before the UK.
Taylor says the firm drew up more than 160 action points but, in the end, only two of its 30-plus jobs were shut down for a period. Productivity remains up and down with some sites close to 100% while others hover between 80% and 90%.
The effect of lockdown has meant a glut of work is on the cards. "There is a lot of pent-up demand and the money has to be invested somewhere." He says some materials, such as bricks and aggregate, have been harder to get hold of since the latest lockdown restrictions eased while the demand for steel means the old days of suppliers letting firms know in advance about price hikes have gone. "Now the rises come out immediately," he says. "What we're trying to do with some jobs is design some parts earlier so we can pre-order certain products to minimise the impact of inflation."
He remains undeterred by the current problems the industry is facing with materials, preferring instead to look beyond. "The pipeline of opportunities that are coming up is so exciting."
Asked what he likes most about running his own business, he quips: "I get to sign my own holiday forms." But he thinks for a moment and adds: "We're privately-owned, agile, masters of our destiny. Clients have become friends. It's a way of life. I love it."