Laing O'Rourke drafted in to complete scheme after contractor's implosion four years ago
The much-delayed Royal University Hospital in Liverpool is on track to open this autumn, according to the trust responsible for the project.
The building was initially meant to open five years ago in 2017 but serious problems with the build emerged following the collapse of its main contractor, Carillion.
Major fractures in several concrete beams were identified and a structural review by Arup found that the building's cladding failed fire safety tests.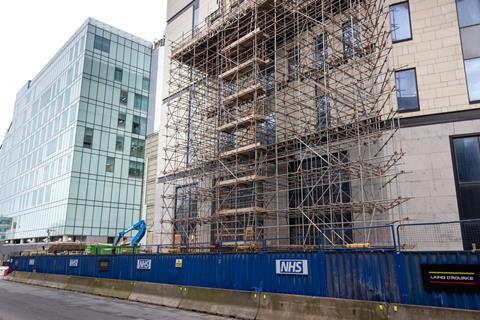 Laing O'Rourke took over on the project in 2018 and in 2020 a report from the National Audit Office projected that the overall costs of the new hospital – initially meant to cost £335m – could tip over the £1.1bn mark.
A spokesperson for the Liverpool University Hospitals NHS Foundation Trust said the hospital is now on schedule to open in September or October this year.
In February, ground was broken on the podium entrance and drop off facility, the final significant element of the build programme.
The new hospital will replace the existing Royal Liverpool University Hospital, which opened in 1978, and which regularly experiences flooding due to its ageing pipework.
>>> A tale of two hospitals: how Carillion's unfinished jobs are shaping up
The collapse of Carillion also led to huge delays on the Midlands Metropolitan Hospital that it was building in Smethwick.
The planned 670-bed super-hospital was supposed to open in October 2018 and replace A&E departments at Sandwell and City hospitals.
But after Carillion went bust, the half-finished building stood empty and exposed to the elements for almost a year before Balfour Beatty was brought on to complete it.
In 2019, Toby Lewis, then-chief executive Sandwell and West Birmingham NHS Trust, said the trust wanted the hospital to be open in time for the next month's Commonwealth Games in Birmingham.
Earlier this year, Rachel Barlow, director of system transformation at the trust, told a joint health overview and scrutiny committee that the building "won't be ready this year".
"At the moment, we can't confirm a date but we are getting ready to move spring 2023," she said.
The trust told Building it was not yet currently in a position to announce an opening date.