Södra's concerns add to growing worries about getting products to sites if UK crashes out of EU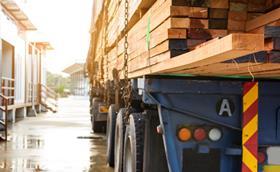 A Swedish materials firm has told Building it has no idea how much it will cost to get its product to Northern Ireland when the UK leaves the EU because of the ongoing uncertainty over a no-deal Brexit.
Confusion over the Irish border situation is causing headaches for firms, with freight companies unwilling to quote on how much it will cost to get materials into Northern Ireland until a deal is sorted out – or not.
Swedish timber company Södra, which, according to its 2017 accounts had net sales of £1.8bn and carried out £150m-worth of business in the UK, said it didn't know whether it would need to get stock into Northern Ireland out of Wicklow, Republic of Ireland, or Dundee in Scotland in the event of a hard border.
Jeremy English, Södra's Great Britain and Ireland sales director for manufacturers, said hauliers were reluctant to quote on costs about bringing stock across the Irish Sea into Northern Ireland because they did not know how much extra a no-deal Brexit would add to the price.
He added: "We are telling our clients in Northern Ireland that they will have supply, we just can't tell them how much the haulage is going to be."
Södra said it has been stockpiling product and plans to hold 10 weeks' worth of timber by the time the UK leaves the EU. At the beginning of the month, it set up an Irish business called Södra Wood Ireland which English said was in part because of Brexit.
The Swedish firm's concern adds to growing worries that deliveries to sites will dry up if the UK leaves the EU without a deal at the end of March.
The issue is set to be a key focus of the industry's emergency summit on Brexit next week with Mace chief executive Mark Reynolds, a member of the government-backed Construction Leadership Council, telling Building: "The real fear [of a no-deal Brexit] is over goods. My immediate worry is about imports and exports, it's the biggest short-term risk."
English said Södra still viewed a post-Brexit UK, alongside Sweden and Holland, as one of its key markets in Europe because there were not enough forests in the country to meet the demand for timber.