Andrea Leadsom introduced the bill on Wednesday
The bill which will allow the £4bn programme to restore the Palace of Westminster to get underway is set to have its second reading today.
The Parliamentary Buildings (Restoration and Renewal) Bill, which was introduced to parliament by the leader of the House of Commons Andrea Leadsom yesterday, lays out how the job will be done.
The bill has drawn on the 2012 London Olympics' delivery method and will establish a sponsor body, made up of parliamentary and external members, which acts as the client on behalf of parliament and will oversee works – and a delivery authority responsible for the build.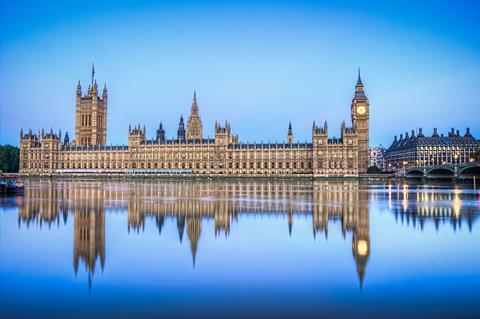 The bill will require the sponsor body to secure parliamentary approval for the design, cost and timing of the works.
When the bill is passed the shadow sponsor board, which former British Property Federation boss Liz Peace was appointed to chair last July, will become the official sponsor body.
The shadow sponsor board can start recruiting for the delivery authority as soon as the bill passes its second reading in the Commons.
Several financial safeguards have also been written into the bill, meaning the project will be under the scrutiny of both the National Audit Office and an estimates commission who will in turn report to the Treasury.
Leadsom said the fire at Notre Dame in Paris last month had highlighted the need to get to work on the project as quickly as possible.
She said: "Events like the terrible fire at Notre Dame bring home to us sharply the importance of preserving our historic buildings.
"This bill ensures the vital work needed to protect its future will happen in the most efficient way – with the expertise we need, proper structures in place, and making sure we deliver the best possible value for taxpayers' money."
Interim measures, including 24/7 fire safety patrols, are already in place to protect the building and ensures it remains compliant with existing fire safety laws.
The news comes a day after plans for AHMM's plans transformation of Richmond House into a temporary home for MPs when both they and Peers move out of the Palace in the mid-2020s were revealed.
Lendlease is set to carry out the job, which is part of the wider £1.6bn Northern Estates Programme.