Read about the winner and runners up for this year's Construction Client of the Year Award

Winner: The Christie NHS Foundation Trust
The Manchester-based trust specialises in cancer care, research and education. It has completed the first high-energy NHS proton beam therapy centre in the UK, which was delivered on time and under budget, and is one of the most advanced cancer treatment centres in the world. It was built using a collaborative approach under the ProCure21+ contracting framework. The Christie said it worked with a patient and local community strategy focusing on openness, clear communication and consideration.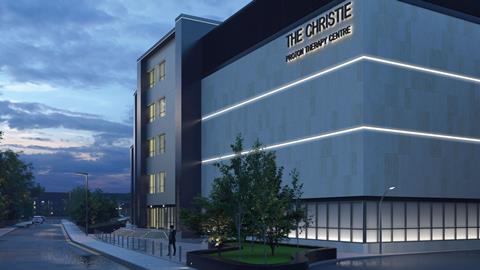 Runners-up
Argent
Argent, founded in 1981 by Michael and Peter Freeman, is known for some of London's most high-profile regeneration projects. In July, it submitted plans for Tottenham Hale, a scheme in the north of the capital comprising more than 1,000 homes alongside workspace and a health centre. The firm has also been a key player in the 67-acre King's Cross redevelopment, and is known for Brindleyplace in Birmingham and Manchester's Northern Quarter, Piccadilly area and St Peter's Square.
British Land
The FTSE 100-listed developer is one the largest property companies in the UK. It has £18.2bn worth of assets and 25 million ft2 under management. It is working on a swathe of major schemes across London, including 100 Liverpool Street at Broadgate in the City of London, which is set to complete in 2020, and is working on the 53-acre Canada Water masterplan. The company has diversified in the past year with the launch of its flexible workspace brand, Storey.
Dudley College of Technology
Dudley College has helped to change how procurement is carried out by using the integrated project insurance (IPI) model to procure and deliver the UK's first IPI scheme, Advance II, to build its new centre for advanced building technologies. This new model of procurement is being tested by government. It uses a fully integrated collaborative working approach including the adoption of a project bank account, BIM and lean design, while insuring project risks rather than liabilities and promoting a "no blame, no claim" culture. The project was very successful, with 99% of its success criteria achieved, 23% exceeded and completion 6.5% below the project investment target.
LSE
The London university has an estate comprising 32 campus buildings, 11 halls of residence, two pubs and a 23-acre sports ground. The university is working on a new teaching building designed by Rogers Stirk Harbour + Partners, set to complete in 2019. Its other major project is the Marshall Building at 44 Lincoln's Inn Fields, designed by Grafton Architects and set to finish in 2021.
Nottingham Trent University Estates Department
The estates department at Nottingham Trent, which manages the development and maintenance of the university's four campuses, has £250m of investment scheduled and has spent £37m this year. It recently created its own in-house contractor; this team also works with externally contracted works to drive early contractor involvement. In October 2017 the university launched its new Interdisciplinary Science and Technology Centre. It has a policy of BREEAM use on capital projects and works in partnership with the Considerate Constructors Scheme.
The University of Manchester
The university has been working on its £1.2bn campus masterplan since 2012, spending around £123m in the past year. As it passed the halfway stage of its 10-year programme this year, the major elements of the scheme are under construction, including a new engineering campus and the Schuster Annexe for the School of Physics and Astronomy. The university says that the first projects have been delivered on time and within budget.
University of Glasgow
The university is running a £1bn campus development programme, which is the biggest education development in Scotland. Multiplex is managing the first phase of the Gilmorehill Campus project, which will include six major academic buildings and has HLM as architect. The project received planning approval in October 2017. The first stage on the 5ha former Western Infirmary site will hold a learning and teaching hub, as well as new homes for the Institute of Health and Wellbeing and the Adam Smith Business School. Phase two is expected to start in 2022.