Firm to finalise debt for equity swap plan early next year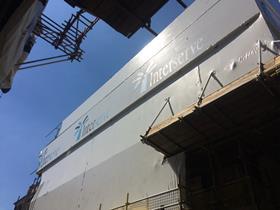 Interserve has confirmed it is in rescue talks which would see the firm hand control of the business to its lenders in a debt for equity swap.
The firm said the talks would probably leave shareholders nursing big losses.
Shareholders will need to agree the plan which is expected to be finalised early next year.
It said: "Interserve and its lenders are engaged in constructive discussions regarding the agreement and implementation of a deleveraging plan which would deliver a strong balance sheet.
"Although the form of the deleveraging plan remains to be finalised, it is likely to involve the conversion of a substantial proportion of the group's external borrowings into new equity, an element of which may be sold to existing shareholders and potentially other investors.
"If implemented in this form, the deleveraging plan could result in material dilution for current Interserve shareholders."
Its shares have slumped by 75% during 2018, closing at 24.5p on Friday. The news is likely to hit Interserve's share price further when markets open at 8am this morning.
The firm completed a refinancing earlier this year but the latest crisis has been prompted by more problems on its energy-from-waste contracts.
Last month Building revealed Interserve had run into problems on an energy-from-waste contract after failing to hand over a scheme in Derby when it said it would.
Its joint venture partner on the scheme, waste management firm Renewi, said Interserve may lose so much money on delays to completion of the plant, originally due to be delivered in spring 2017, that it would be forced to cover additional costs.
Debbie White, Interserve's chief executive, said both lenders and the Cabinet Office were supportive of the contractor, with the deleveraging plan on the agenda since Interserve's £300m refinancing earlier this year.
White said: "Our refinancing in April of this year contemplated the development of a deleveraging plan in consultation with our stakeholders and the liquidity injected at that point also gave us the funding to execute our business plan.
"Our discussions with our lenders are a positive step in the process that was agreed as part of the April refinancing."
Reports at the weekend suggested Interserve was eyeing up the sale of some of its businesses in the Middle East but Interserve made no mention of selling assets in its update to the market this morning.
The firm has been hit by a series of problems pulling out of its energy-from-waste business. Former chief executive Adrian Ringrose said, when quitting the sector in 2016, that the costs would be around £70m. But they have since shot up to close to £230m.