Mace issues statement saying it is 'extremely disappointed' with the delays to new stadium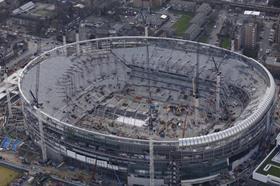 Tottenham Hotspur is "hugely frustrated" that delays in the construction of their new stadium by Mace have meant the club has had to relocate games to Wembley.
In a statement published on its website, the Premier League club said it took the decision to relocate games against Liverpool and Cardiff City yesterday after receiving a report from Mace which highlighted the problems with safety systems.
The statement added: "Delays are common, certainly for builds of this size and complexity, however we are hugely frustrated that this has occurred with these systems at such a late stage.
"Whilst we would have been able to mitigate other areas, we simply cannot compromise safety."
Tottenham Hotspur also released details of refunds to season-ticket holders, raising further questions about who will foot the bill for costs incurred as a result of delays.
A spokesperson for Mace confirmed critical safety systems had caused the delays, and said that it was "extremely disappointing" that matches had to be moved.
He added: "Although these delays are obviously frustrating, once complete the new stadium is going to leave a fantastic, lasting legacy and will be a project everyone involved will be proud to be associated with."