Read about the winner and runners up for this year's Construction Client of the Year Award

Winner: Argent
For more than a decade Argent has been the driving force behind the 67-acre King's Cross redevelopment in central London, which has attracted big-name tenants including Google, Facebook and Universal Music. The development reached a major milestone in the past 12 months, with the much-celebrated Coal Drops Yard – designed by architect Heatherwick Studio – opening last October. The developer, which was founded in 1981 by Michael and Peter Freeman, was also given the go-ahead for its £500m plans for Tottenham Hale. The scheme, which is located in the north of the capital, is made up of more than 1,000 homes and also includes offices, shops, restaurants, a cinema and a health centre.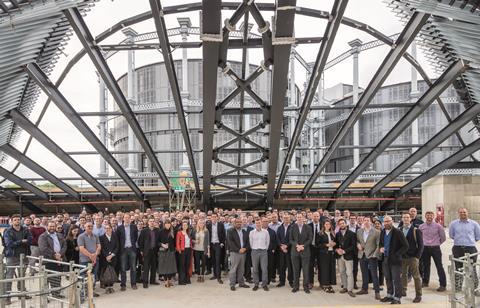 Runners-up
Derwent London
One of London's most well-known office developers, Derwent London now has an investment portfolio that totals 5.7 million ft2 and is worth £5.4bn. In the past year the firm has inked construction contracts for major schemes on Old Street Roundabout and above Crossrail's Tottenham Court Road station. The developer has also secured a pre-let for the Tottenham Court Road scheme, with data research and software development firm G-Research having signed up to occupy the top six floors. Derwent's upcoming major schemes include 19-35 Baker Street, a £50m-£100m office-led, mixed-use scheme designed by Hopkins, in which Derwent has a 55% stake with the Portman Estate holding the remainder.
LSE
London university LSE has either recently completed or is on site with several significant new capital projects, making it one of the big players in the higher education sector in recent years. Mace recently completed the Rogers Stirk Harbour + Partners-designed redevelopment of the university's Centre Building and is working on the £140m Marshall Building, which will house the school of accounting as well as the finance and management schools, with sports and arts rehearsal facilities included in the building as well. The scheme, which is located at 44 Lincoln's Inn Fields in Holborn, west London, has been designed by Grafton Architects and is scheduled to be completed in 2021. The London university has an estate comprising 32 campus buildings, 11 halls of residence, two pubs and a 23-acre sports ground.
Places for People
Places for People is one of the largest property management, development and regeneration companies in the UK. It is made up of more than 20 specialist companies, has assets in excess of £3bn, and owns or manages nearly 200,000 homes. In its last annual report Places for People said it planned to deliver at least 2,600 affordable homes by 2022 with the support of Homes England, which has appointed the company as a strategic partner. The firm has also recently set up a £100m joint venture with modular homes manufacturer Ilke Homes. Places for People has said it will purchase 750 units from Ilke Homes, including 500 for sites it already owns, together with 250 for new schemes.
Science Museum Group
The Science Museum Group is made up of a collection of British museums, including the Science Museum in south Kensington, the National Railway Museum in York and the National Collections Centre Museum. In the past 12 months the group has appointed Kier to build the permanent new home for more than three-quarters of its collection of scientific artefacts in Wroughton, Wiltshire. The project is expected to be finished next year. It has also progressed with plans for a major expansion at the National Railway Museum, which is due to be completed by 2025. The group is set to appoint design teams for two different galleries within the museum in York over the coming months.
UCL
London-based university UCL is halfway through its 10-year, £1.25bn Transforming UCL programme. The £67m Student Centre, which was built by Mace and designed by Nicholas Hare Architects, opened in February. It achieved a BREEAM "outstanding" green rating and features many innovations. In the past year UCL has also moved forward with plans for its Hawkins\Brown-designed neurology centre, appointing ISG to build the £110m scheme. The university is also developing a new campus in east London's Stratford, with the first facilities at UCL East expected to open in 2021. While Mace and Vinci have been appointed to build the campus' first phase, the rest of UCL East is still to be procured.