Read about the winner and runners-up for this year's Female Leadership Award

Winner: Shevaughn Rieck
Farrells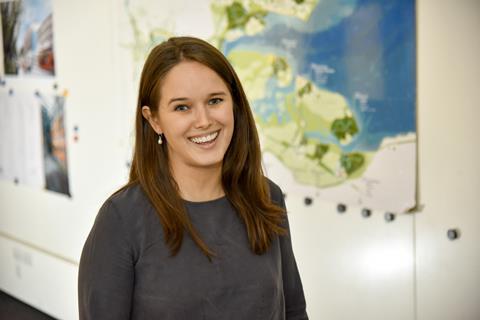 Rieck started at Farrells 10 years ago as an architectural assistant. She was promoted to partner within four years of becoming a qualified architect and with less than 10 years' professional experience. She was project lead and contract administrator on the recently completed Chelsea Waterfront scheme in south-west London. Rieck has led the audit of all Farrells projects in terms of fire safety post-Grenfell, making recommendations to clients on how to minimise risk. She also developed the practice's first five-year business plan and the models for monitoring performance. The plan is aimed at restabilising the cost base and rebalancing profit margins while managing succession and controlled growth of 10% on turnover in the period.

Runners-up
Kate Ives
Wates Residential
Development director Ives is responsible for growing the firm's investment in new developments, building on Wates Residential's portfolio of partnership housing and joint ventures with local authorities and housing associations. She also works across new and existing projects to ensure that they deliver to Wates' sustainable investment criteria. In 2018 Ives was responsible for securing one of the Wates Group's biggest ever contracts: a £1bn joint venture with Havering council that will deliver 5,000 homes over the next 12 to 15 years. She is a founding member of Women in Wates, an informal network in which female employees can share their experiences, and has led International Women's Day events for the company.
Katrina Kostic Samen
KKS
The current leadership team of KKS, which was founded by Kostic Samen in 2004, is London's only all-female-led interior architectural practice. Kostic Samen was chair and president of the British Council for Offices (BCO) in 2018/19 – the first designer to hold this role and just the third woman in the post in 29 years. While holding the position, she launched an initiative to increase female membership at the BCO from 4% to 20% and pushed to ensure its sub-committees have 20% female representation. Clare Ashmore, a main board director at fit-out firm Parkeray, with which KKS often collaborates, says: "She leads from behind with her nurturing approach and equally strongly from the front, flying the flag for women in our industry, across all perceived diversities."
Alex Lawrence
Ramboll
As buildings director, Lawrence is responsible for managing delivery of large or complex projects including Crossrail and buildings on the Paddington Central campus. Fellow director Steve Forder says: "Alex became involved on our Crossrail Paddington station project during an incredibly intense period on the project. Her natural empowering leadership, calm influence and people skills were crucial in raising the whole team's motivation." Lawrence is also the head of talent and inclusion and has devised and implemented Ramboll's diversity and inclusion strategy. This centres on three core areas: collaborative culture that nurtures inclusivity, attracting and developing diverse talent, and advancing inclusive design to maximise social value.
Holly Lewis
We Made That
Lewis, who co-founded architecture and urbanism practice We Made That in 2006, is responsible for leading an 18-strong team in business growth and for securing new work. She has led on a commercial and industrial masterplan in Thamesmead for Peabody and was instrumental in We Made That joining the architectural team for the new HS2 station at London's Euston. Lewis is also an active public speaker, with particular expertise in social value, high streets and industrial intensification. She is also a Mayor's Design Advocate for the Greater London Authority. In this role Lewis has led the industrial intensification and co-location study for the GLA, which was designed to inform new policies in the London Plan.
Anne-Marie Nicholson

PRP
As a senior partner at architect PRP, Nicholson oversees the 280-strong practice and leads PRP's Surrey studio. She has authored a number of recognised design guides on designing for older people, most notably Homes for the Third Age, which spearheaded a successful and continued drive to bring good design to the later-living sector. She was appointed as one of three senior partners at PRP in 2015 (there are now four). Nicholson and her co-senior partners opted to take the practice in a different direction, rejecting the role of chair to jointly appoint themselves as three equal leaders instead. Nicholson's team is the largest group of architects specialising in the later-living sector in Europe, while 70% of staff in the team are women.