Read about the winner and runners up for this year's Architectural Practice of the Year award
Winner: HTA Design
2019 is HTA's 50th year, one the practice regards as among its most successful to date. It completed or started numerous projects that characterise a new era of innovation and quality, which with 20 years of research and investment has enabled the firm to become a market leader in modular construction. It completed Savoy Circus and Chapter Holloway, while modular moved into large-scale build-to-rent opportunities at Greenford Quay and George Street, Croydon, both currently being built at pace on site using advanced modular construction.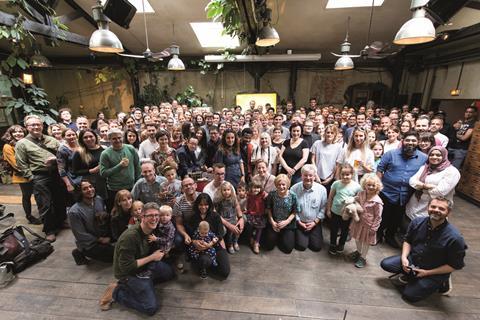 Runners-up
AHR
With profits up, AHR's multi-service approach includes architecture, interior design, masterplanning, landscape design, geomatic and BIM consultancy and principal designer services. Its work throughout and outside the UK allows the firm to draw on regional strengths and international expertise. Two recent projects, Places Leisure Eastleigh and the UK Hydrographic Office's HQ, received RIBA awards. The firm attributes its repeat business to a partnership-based approach to client and supplier relationships.
Assael Architecture
Celebrating its 25th anniversary in 2019, Putney-based Assael regards becoming an employee ownership trust as its biggest milestone of the past 12 months. As a means of enhancing employee engagement, this was a natural move for the firm, which puts its success down to its staff's hard work and dedication. Other highlights include seeing many of its build-to-rent projects near completion, working on new sustainable housing projects and micro-living schemes, and investing in research and development.
HLM Architects
In the past 12 months HLM became the first UK practice to offer an architectural apprenticeship. Meanwhile investment in digital led to the creation of HLM Insight, a digital engagement tool ensuring user needs are represented in the design brief. An online questionnaire explores users' experience, environment and preferences against physiological and psychological wellbeing criteria. Once analysed, the results used to guide key decisions of the design and commissioning team.
JTP
This has been a successful year for JTP, with turnover up 16% and profit up by one-quarter. JTP undertakes projects at every scale, from masterplanning cities to the design and regeneration of streets, neighbourhoods and individual buildings. Major projects in the past 12 months include Alconbury Weald, a new neighbourhood of between 5,000 and 6,000 homes in Huntingdon for developer Urban & Civic, and the masterplan for Arthur Street, in Erith, south London, developed through a collaborative process with Bexley council.
Pascall+Watson
The architect says 2019 has been an "outstanding year", with projects ranging from the transformation of major UK airports – Heathrow, Gatwick, Stansted, London City and Manchester – to working in a variety of international locations including Kansai in Japan, Al Maktoum in the UAE, and Trichy and Navi Mumbai in India. The firm created pioneering research hubs at two leading UK universities, Imperial College London and Brunel University London, and collaborated on some of the UAE's most notable projects, including Yas Arena and Reem Mall Snow Park.
R H Partnership
The practice has been involved in a number of interesting schemes in the past 12 months that have demanded significant research and innovation, including the Chemistry of Health Building and the award-winning Swirles Court halls of residence, both for Cambridge university. The past year has seen the firm put in place long-term succession planning, ensuring all employees have a voice in how it develops. In the next few months it will become an employee ownership trust, further improving opportunities for staff to be involved in the management of the practice.
Scott Brownrigg
Scott Brownrigg has spent the past 12 months building a sustainable design-focused business, one that seeks to become recognised as a global design leader. Aiming to grow its international work to 40% of fee earnings, it is working on projects in New Zealand, China, Vietnam, India, Niger, Russia, Jordan, Saudi Arabia and South Africa. Its Singapore team moved to larger premises after a series of project wins, and the firm opened a studio in Amsterdam that focuses on the data, science and technology sectors. It also developed a strategic partnership with Crown Architecture in New York.