Read about the winner and runners up for this year's Major Contractor of  the Year (over £300m) award
Winner: Mace

Over the past 12 months Mace has worked on more than 100 projects, ranging from schools to data centres. Despite 2018 being an unsettling year for the construction industry, Mace performed well and is in a strong position. The firm invested £44m in research and development, raised £872,000 for worthy causes and charities and won global awards for its innovative Rising Factory. In London, Mace completed the City's latest skyscraper, 70 St Mary Axe, and handed over Tottenham Hotspur's new football stadium. The contractor has also continued its work on the second phase of Battersea Power Station (pictured). Mace secured 75% of its work from repeat order business. It also reduced the use of single-use plastics on its construction sites by 20% and corporately by 80%, while procuring 66% of power from renewable sources.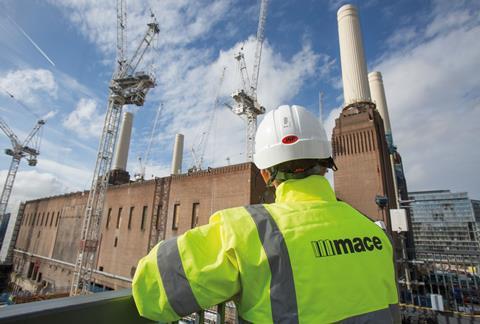 Special commendation
ISG
ISG has turned itself around since 2015 and says its success has been driven by operational efficiency, delivery excellence and strong client and employee relationships. In the past 12 months the firm has also completed its largest-ever project, a £350m data centre for a multinational technology client. Over the past year ISG has committed to innovation for the sector, including the launch of its tech incubator initiative, whereby an in-house team selects, prototypes and develops new technologies to drive change in the sector. Current prototypes include an automated PPE detection system that can be positioned at key site entry points and alert to any non-compliance. This year ISG has also launched the Professional Construction Practice Diploma in the House of Commons. It is the industry's first-ever level 3 or A level equivalent qualification.
Runners-up
Lendlease
Over the past 12 months Lendlease has diversified its pipeline to include more public sector work and has grown its business in the North-west and the Midlands. In the last year the contractor has handed over five buildings, won or broken ground on a further seven projects and continued to deliver another seven. These include both public and private sector schemes, including the refurbishment of the grade I-listed Manchester Town Hall, the redevelopment of Perry Barr in Birmingham, which will be the athletes' village for the 2022 Commonwealth Games, and GPE's mixed-use Oxford House in London. The contractor has also vertically integrated its residential business to improve productivity, combining its construction and development arms under a single management structure. Within the last year Lendlease has also set up a weekly update dashboard, which is sent to every client to improve communication.
Wates Group
Wates has put in 32 million working hours across its key sectors of construction, property services and residential developments in the past year. The firm has built 7,000 new homes, maintained 500,000 more in social housing, and worked on more than 2,000 construction sites. It has also won new contracts to build school and university buildings, sporting facilities and commercial offices, and has begun work on the £650m restoration and renovation programme on parliament's Northern Estate, with work already under way on the historic Derby Gate. After Grenfell, Wates became an early adopter in helping reform the Building Regulations in the wake of Dame Judith Hackitt's review. The firm has also made significant innovation pushes including the introduction of the Adapt 2.0 system across its schools building programme, allowing for the modular and standardised manufacture of building components.
Winvic Construction
During 2019 Winvic has continued to invest in and develop its digital capabilities and has added a BIM cave as part of the newly created VR zone in its dedicated innovation and training centre. This facility will enable Winvic to share virtual experiences with clients, design teams and supply chain partners. The firm's projects over the past 12 months include Newhall Square, a build-to-rent scheme in Birmingham's Jewellery Quarter, and completion of the retail and leisure centre Rushden Lakes in Northamptonshire, which includes an eight-level cinema along with shops and restaurants. In the 12 months to May 2019 Winvic completed 30 projects and started on another 42 across five main operating sectors. The firm secured between 80% and 90% of its business from repeat customers, and increased its construction headcount this year by 40% to 312.