Read about the winner and runners up for this year's Housebuilder of the Year award
Winner: Berkeley Group
In the past 12 months Berkeley Group has heavily increased its sustainability and community engagement. It submitted more than 20 planning applications with a binding commitment to net biodiversity gain (NBG) – a measurable increase in natural life – far more than any other developer. In March 2019, the government confirmed NBG will be a national policy requirement, with DEFRA crediting Berkeley as a pioneer. In 2018 it also became the UK's first carbon-positive homebuilder, cutting emissions from business operations by 22% since 2016 and offsetting 110% of remaining emissions through supporting verified projects. The firm has taken a lead on modular construction with its precision manufacturing facility in Ebbsfleet, Kent. Berkeley has been piloting community plans on 12 housing schemes both urban and rural as part of a structured approach to building communities. Each plan is different, reflecting local needs and aspirations.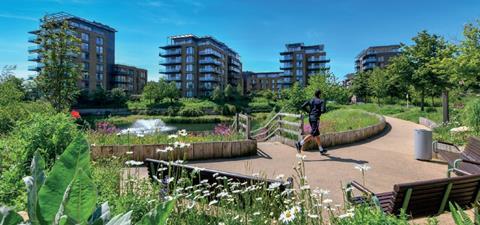 Runners-up
Bovis Homes
Bovis has had a successful year via a business turnaround programme, with highlights including the biggest increase in percentage points in customer satisfaction as measured by the Home Building Federation. It has created a new portal for customers to be involved in their new home every step of the way. The group delivered a new range, the Phoenix collection, developed around customer needs. Bovis has also established a new partnership housing division to support government initiatives to boost housing supply, strengthened relationships with contractor partners and focused on investing in its people through employee engagement and continuous professional development. It has progressed from being a takeover target in 2017 to delivering all-round record results in just 18 months.
Miller Homes
In the past year Edinburgh-based Miller saw operating profit rise by 15%, with a similar percentage rise in the number of completed homes. The firm works collaboratively to build enduring relationships with a range of stakeholders and enhance the communities where it builds. In 2018, 20 public consultation events were held and 80% of calls to Miller Respect, its 24/7 community helpline for concerns about work on site, were responded to in 24 hours. One-fifth of Miller's homes are affordable and the firm contributed £18.3m to education provision. As part of its digital strategy to enhance the customer journey and improve efficiency, Miller became the first UK housebuilder to offer online reservations. This award-winning facility means buyers can reserve and pay their reservation fee via the group's website before visiting the development within 72 hours to confirm their reservation.
Places for People
A leading placemaker and regeneration firm, Places for People has the capability and expertise to create and manage entire places, from strategic development and construction to providing homes and services for communities. It takes a commercial approach to delivering social outcomes, investing in the long-term sustainability of its places by developing a broad offer. The group's 20 businesses, with more than 12,000 employees, built or acquired 38% more homes in the past 12 months than in the previous year. Of the 2,500 homes now under construction, 1,032 will be affordable, with the development of such properties accounting for 44% of turnover and taking the total of affordable homes managed by Places for People to 66,800. The group has also invested more than £100m in improving its portfolio, investing in broader initiatives including a national painting and repair programme on 1,600 homes, plus a range of energy-efficient improvements such as low-energy lighting across many of our homes.
Redrow Homes
In October 2018, boss Steve Morgan handed over Redrow's 100,000th home. In the 44 years since it was formed Redrow has built homes for about 300,000 people, equivalent to a small city. It is leading the field among volume developers to reinvent the garden village concept, with developments such as Plas Dwr in Cardiff (7,000 homes), Amington Garden Village in Tamworth (1,000 homes) and Colindale Gardens in London, an urban new settlement of 3,000 homes. A new offering in 2018 was its Heritage Lifestyle product, originally designed with downsizers in mind, delivering homes with fewer but larger bedrooms and the luxury of an en-suite to every bedroom. In May this year Redrow became the first housebuilder to let buyers legally complete the reservation of a new home online. It also announced a partnership with The Wildlife Trusts, working together to develop a group-wide wildlife strategy for all Redrow's sites.