Read about the winner and shortlisted nominees for this year's International Project of the Year award

Winner: Vessel
Entered by Heatherwick Studio
Vessel was a rare opportunity to create a new type of urban public space. It is the central feature in the main public square of the new Hudson Yards development, which has transformed a working railyard in Manhattan's West Side. The brief was non-prescriptive on typology and outcome: it was simply to design a centrepiece for the area that would welcome visitors and create a meeting place in the heart of the new district. The design team decided it should be a memorable single object, not a series of objects dispersed throughout the space, and that it should encourage activity and participation, rather than be a sculpture. In the first three months after its completion in March 2019, it was visited by a million people. The 16-storey structure was designed for climbing, with 2,465 steps, 80 landings, and views across the River Hudson and Manhattan. The wider project team included client Related-Oxford Properties Group, design engineer AKT II and cladding contractor Permasteelisa.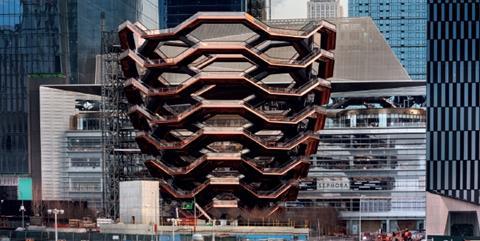 Runners-up
Lenovo HQ
Entered by Turner & Townsend
Leading technology company Lenovo's new global headquarters in Beijing consists of office buildings, an innovation centre, research and development labs, conference and training functions and sports and leisure facilities. It houses more than 11,000 employees. The site area is 12ha, with a total building floor area of 360,000m2, connected by three link bridges and two underground passes. Turner & Townsend was appointed as the project management consultant, providing a full suite of services for the construction process. The project was carried out in two phases: the first was completed in October 2015 and the second in August 2018, achieving the revised programme requirements made in 2016 to accommodate Lenovo's new requirements for flexible working. T&T set up a procurement and contracting strategy matrix to maintain quality control and to ensure strict adherence to Lenovo's procurement policies. Lenovo as fully involved in all aspects of the project, working collaboratively with T&T during construction.
Specialized Rehabilitation Hospital
Entered by HLM
HLM has been working with both government and private organisations over the past three years to advise and guide on the development of the UAE's social infrastructure and healthcare landscape. This includes the Specialized Rehabilitation Hospital (SRH) in Abu Dhabi, a 166-bed, 24,000m2 long-term and acute care rehabilitation facility. Working with an existing abandoned superstructure purchased by the client, the HLM team undertook a complex design process, working to design a world-class healthcare facility within an existing frame. At the same time the practice worked with the contractor to deliver technical information for demolition, remediation works, final production information, and project completion within a 14-month period. Working within an existing superstructure posed challenges for introducing a hydrotherapy pool and MRI suite with the weights and clearances those required. The tight urban site also posed a major challenge for creating an externally accessible MRI, which is a requirement for maintenance, that would not be affected by the vibrations created by nearby areas with heavy traffic. The project team included a Wates/Eastern International JV as main contractor and Turner & Townsend as cost manager.
Zhejiang International Circuit
Entered by Ridge and Partners
Circuit is one of the most advanced motorsport and leisure destinations in the world. Consultant Ridge set up an office in Shanghai to provide full multidisciplinary design, project management and cost management services on the project. The firm, which worked for client Tianma, collaborated on the project with Apex Circuit Design and URS, a subsidiary of Aecom. Ridge worked to deliver all phases on time and within the £250m budget. Delays to some buildings due to inclement weather were overcome. The main physical challenges on the project were the mountainside site and local ground conditions due to the proximity of a river. The scheme includes a blend of building types, such as multi-use leisure facilities and family-orientated amenities. The four main interconnected buildings are made up of a luxury 52-bed boutique hotel, an exhibition centre, a commercial retail centre and a 6,000-seat grandstand - all connected by a giant plaza, designed for spectating and hosting large-scale events.