Read about the winner and shortlisted entries for this year's Small project of the Year Award
Winner: Victoria Wharf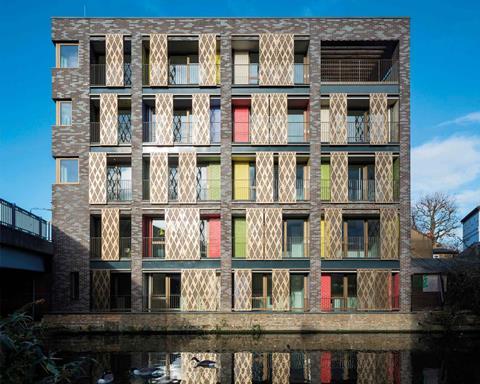 Entered by Child Graddon Lewis
CGL designed two apartment blocks of affordable housing in the London borough of Westminster for developer Westminster Community Homes. Built by contractor Quinn London on a redundant plot by the Grand Union Canal, the external design was driven by the site's urban context and the need for a building that delivered a strong architectural impact, distinct in style and character. The developer also wanted a unique apartment type aimed at single households: a growing demographic in need of affordable housing. CGL proposed materials that saw key costs spent wisely on areas that have the greatest visual impact.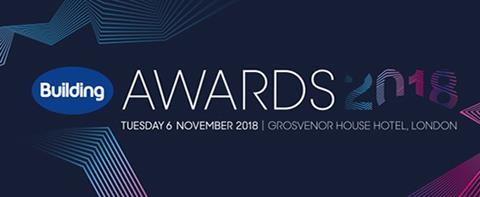 Runners-up
Artist's Studio
Entered by Harty and Harty
Commissioned by a Norfolk-based sculptor and set in the garden of her home, the studio's design was informed by key views and light quality, while setbacks and overhangs create shadows that track over the facade during the day. The structure is formed from in-situ concrete that is externally insulated and clad in local brickwork, with large expanses of glass and triple-glazed panels. It has a cantilevered concrete green roof, and in both walls and roof the thermal mass is so great that there is a low requirement for heating.
Being Brunel Museum
Entered by Clarkebond
Designed to preserve the legacy of engineering genius Isambard Kingdom Brunel, the museum was built in Bristol's SS Great Britain dock yard and joined by a link bridge to the original grade II-listed dock office (once Brunel's drawing office). Reflecting the historic nature of the nearby wharf buildings, the project involved complex logistical challenges during construction, and included a major internal fit-out to create a unique and inspirational interactive visitor experience.
Bishops Wood Court
Entered by Daykin Marshall Studio
Set in the Highgate conservation area in north London, this nine-apartment mansion block was developed in collaboration with the local authority, along with input from stakeholder heritage groups and local residents. A strong street facade of four storeys responds to the red-brick bay windows of mansion blocks on the opposite side of the street, while the south facade is finished in white brick, echoing the white concrete balconies that are the prominent feature on adjacent 1930s housing blocks.
Floating Home
Entered by Vent-Axia
High ceilings and light reflected by the water coming in through the windows were essential elements in the design of this floating home. But the proximity to water meant more potential for humidity and the reflections of the sun meant increased solar gain. Mindful of this and the need for airtightness, mechanical ventilation was essential for a healthy, mould-free interior. Vent-Axia's Lo-Carbon Sentinel Kinetic BH MVHR unit was chosen to provide energy-efficient and effective ventilation to this innovative and exciting project.
Hubert Perrodo Building
Entered by Design Engine Architects
This three-storey pavilion with a set-back fourth storey comprises six study-bedrooms, a seminar room, a ground-floor study and event space within the remodelled Hannington and Chavasse quads of St Peter's College, Oxford. The college asked for a new building that would have its own identity but also fit into the overall aesthetic vision and needs of the institution – and got it. Planners describe the scheme as "thoughtful, clearly expressing function in a clear and logical plan form".
Huddersfield Royal Infirmary
Entered by Lendlease
The infirmary is a specialist centre for emergency, planned complex and paediatric surgery. The project, for Huddersfield and Calderdale NHS Financial Trust, was to refurbish five operating theatres that were last upgraded 20 years ago, bringing them fully up to date with modern technology. The smooth delivery of such a complex project was the result of strict co-ordination of clinical services and site works.
Portsoken Pavilion
Entered by Make Architects
Portsoken Pavilion is the centrepiece of a new landscaped public space, Aldgate Square, commissioned by the City of London Corporation. At once sculptural and functional, the monocoque pavilion, home to a cafe, is made from angular Corten panels that give the appearance of being folded. It acts as a piece of art and a community hub. Former pedestrian tunnels have been repurposed as functional back-of-house facilities, freeing up space above ground for garden areas.